According to a Dept. of Children and Families (DCF) memo, state officials are looking to stop accepting new admissions at the Woodside Juvenile Rehabilitation Center as a replacement is sought.
Shared with the Vermont legislature's Joint Legislative Justice Oversight Committee during a hearing Thursday, DCF said the state had "determined that Woodside does not presently have sufficiently robust programming to receive new youth admissions."
Meanwhile, according to the memo, the state is seeking to find "an alternate, interim placement" for the single youth still housed at the Woodside facility.
Woodside, currently the state's only locked juvenile mental health facility and detention center, has become the centerpiece of a legal battle involving conditions within the facility and staff's use of force when dealing with certain incidents inside.
While a settlement had been reached between the state and Disability Rights Vermont (DRVT), an advocacy organization that initially brought DCF to court over conditions within Woodside, a recent DRVT filing in federal court cast doubt on whether DCF would adhere to the court-approved agreement.
During the Justice Oversight Committee's Thursday hearing, DCF's new commissioner, Sean Brown, said five members of Woodside's staff had been suspended from the facility following a June 29 incident cited by DRVT in its latest court filings over conditions in Woodside.
"We had five staff that were involved in the restraint of a youth inappropriately," Brown told the committee Thursday, "which is completely unacceptable."
In their filing, DRVT said video of the June 29 incident "confirms that the same, or even more dangerous, pain-inflicting maneuvers that existed prior to this litigation were used again" despite previous court orders regarding the use of force within Woodside.
As a result of the incident on June 29, as well as several other incidents in Woodside and concerns with leadership turnover inside the facility, DRVT has called for further court-ordered relief related to conditions within the facility.
DCF has previously said it planned to respond to DRVT's claims in court, according to a VTDigger article.
According to Brown, the incident was now subject to an ongoing human resource and residential licensure investigation, as well as a child abuse investigation. Further investigations were also possible, Brown said Thursday.
"I don't want to get too far into the weeds as there is pending litigation," Brown told the committee, "but I do want to convey to this committee the seriousness of what occurred and that we are taking all steps to address it that are necessary."
DCF had previously been ordered by a federal judge to reform its restraint and isolation practices at Woodside after DRVT had brought a suit against the state over several graphic incidents involving the use of force within the Essex-based facility.
In his testimony to the committee, Brown said plans were underway to find a private service provider with a locked facility to replace Woodside's programming while other children traditionally housed in Woodside are instead transitioned into community-based programs or other locked facilities in Vermont.
A backup proposal would see Woodside itself operated by a private provider, a proposition that gave some advocates pause during Thursday's hearing.
While supportive of DCF's plans to shutter the facility in favor of more appropriate private providers and community-based programs, Marshall Pahl, the supervising attorney for the Office of the Defender General's Juvenile Division, said he was concerned with the possibility that Woodside would still see use.
"I'm certainly a little concerned to hear there's sort of backup plans in place to keep using Woodside, albeit with a private entity actually running it, because, from our perspective, what we see in that facility is the facility itself is a lot of the problem," Pahl said. "It is an old, rundown facility that feels like a jail, sounds like a jail, smells like a jail.
"It is entirely not a therapeutic environment."
State officials have touted potentially closing Woodside for at least a year now. In November last year, Gov. Phil Scott's administration formally announced it would seek the facility's closure in 2020 in favor of outsourcing juvenile rehabilitation programming to a private entity.
That plan has since been sidelined by the ongoing COVID-19 pandemic, which likewise saw Woodside's program shuttled first to St. Albans and later Middlesex while the Woodside facility itself was vacated for use as a quarantine site for high-need mental health patients who test positive for COVID-19.
Upon the juvenile detention and rehabilitation program's return to Woodside in late spring, the facility's population peaked at five minors in June before children housed inside the facility were moved to other facilities and community-based programs elsewhere in Vermont, according to Brown.
As of Thursday, according to DCF's memo, only a single child was still housed within Woodside.
According to DCF's memo, the combination of staff leaving due to plans for Woodside's closure, as well as the impacts of COVID-19 and regular changes in leadership in the facility led to Woodside's "current state of instability" despite attempts by DCF "to change the culture and practice at Woodside."
Brown told the Justice Oversight Committee Thursday there'd be more concrete plans for Woodside's replacement available later this month.
Meanwhile, news of DCF's plans to replace Woodside's programming was met with applause from A. J. Ruben, an attorney for DRVT who penned the organization's July complaint against DCF and who attended the Justice Oversight Committee's hearing Thursday.
"We support the commissioner and the department in not putting more kids in Woodside until it's a safe place for kids," Ruben said.
"We thought we had made it safe through the settlement agreement," he continued. "Things happened that demonstrated that wasn't the case, and we actually applaud Commissioner Brown and his staff for taking swift action."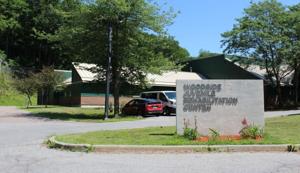 Colchester Sun