SOUTH HERO — Fifteen years ago, two women set out on the adventure of a lifetime.
"We bumped into each other one day in the grocery store, and Cathy asked me what I was doing for the summer," Margaret Holden said. "I told her I wanted to spend more time in my kayak, and she asked, 'can I join you?'"
Since then, Margaret Holden and Catherine Frank have spent countless hours together paddling the coves, islands and bays of Lake Champlain. Side by side, they set a goal to kayak every inch of the lake, from Vergennes to the Canadian border.
"We want to give more people the courage to go out on the lake," Holden said. "If we, two old women, can do it, so can you."
Holden and Frank documented their travels in A Kayaker's Guide to Lake Champlain: Exploring the New York, Vermont & Quebec Shores, a book they co-wrote and re-released as an updated and expanded second-edition this summer.
The book, which is also an exploration of Lake Champlain's history, both cultural and geological, breaks the confines of a traditional guidebook.
"It was hard to find a publisher," Frank said. "People didn't quite know what to do with it."
The book, originally released in 2009, the year Vermont celebrated the quadricentennial of Samuel de Champlain's historic voyage, was eventually picked up by Black Dome Press, a non-fiction publisher based in New York state.
After being out of print for the last four years, A Kayaker's Guide to Lake Champlain is now available again in local bookstores and online.
Readers of the book will find 50 different paddling routes that circumnavigate the entire lake and can be adapted for both first-time kayakers and seasoned adventurers. The routes are illustrated with full-color maps and photographs.
In his review of the book, Arthur B. Cohn, director emeritus of the Lake Champlain Maritime Museum, called the book the most expansive guide to Lake Champlain he has ever read.
"It will be of benefit to any lake student, boater, shoreline explorer, bird watcher, diver, hiker or any one with an interest in gaining a better understanding of this wonderful place we call Lake Champlain," he wrote.
Holden and Frank met for the first time on a community committee almost twenty years ago. At the time, Frank was teaching computer applications and problem-solving at Community College of Vermont, and Holden was working at a non-profit and as a career adviser.
"Our schedules didn't always jive," Frank said. "And that combined with varied weather conditions sometimes made it difficult to find time together."
But the two women were determined to accomplish the goal they had set for themselves, and spent the months of May through September for many years lugging kayaks around the shores of Lake Champlain.
"We both are passionate about spending time outside and saw kayaking as a great way to see the state we both love," Holden said.
Both women said their participation in summer camps and in scouting programs as children had a profound effect on their love of outdoor adventures.
"I spent two summers at a co-ed Eagle Scout camp in the Adirondacks during my senior year of high school and freshman year of college," Holden said.
During those summers, Holden learned how to hike and canoe. She learned what her mind and body were capable of, she said.
"One day, we were hiking to the top of one of the highest peaks, and I thought I wouldn't make it," Holden said. "But then someone handed me a piece of chocolate and an orange, and I realized I could."
Frank, originally from Syracuse, had a similar experience in her youth. She attended an overnight camp in Vermont for a few summers in a row. It was those summers that made her want to move to Vermont permanently.
Both Holden and Frank moved to Vermont in the late 1960s. Holden settled in a lakefront home on Grand Isle, and Frank moved to South Burlington. She also has a summer cabin in South Hero.
The two women didn't set out on their kayaking adventure thinking they would someday write a book about it.
Instead, the book grew out of blog posts Frank had been asked to write while she was working to update the website of the Lake Champlain Land Trust.
Though they each wrote independently, the book was an entirely collaborative project — from planning the logistics of their kayak routes to organizing the guide's many chapters.
Frank said on the days they carpooled to and from their launch sites, whoever wasn't driving took notes on the landscape, weather and water conditions.
"The first draft of the book was over 600 pages," Holden said. "We had to cut it down by half."
Frank said paddling the lake is as much of an educational experience for her as it is a physical one.
"I learned more about American history paddling the lake than I ever did in a classroom," she said. "If I were a history teacher, I put my whole class on a bus and take them around to different spots on the lake."
In order to better understand the place she was writing about, Frank said she took a geology course at the University of Vermont.
Holden said she loves finding new shores and re-discovering old ones while paddling.
"Each time you visit, you see changes," she said. "Even in spots you've visited many times there is something new to find."
Holden is especially fond of paddling in Colchester's Malletts Bay where kayakers can vary the length of their trips and spot natural wildlife.
"You can often spot minks, osprey and loons," she said.
Holden and Frank's longest trip was a 22-mile paddle out and back from Missisquoi Bay to the lake's Canadian border.
"It was one of the hottest days of the year, and crossing into Canada by water ended up being more challenging than we had bargained for," Frank said.
Both Holden and Frank are now retired, and enjoy spending even more time together — writing, kayaking and drinking iced tea on Holden's deck.
"We've heard from older women — and men — that our book has inspired them to get outside," Holden said. "That's more than we could have asked for."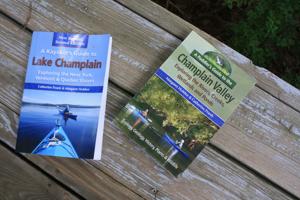 Colchester Sun