WINOOSKI — The Winooski Education Association has announced it does not endorse the hybrid model of in-person and remote instruction currently proposed by the Winooski School District.
In a letter sent to district administrators Aug. 13, WEA stated the association will not accept any reopening proposal that includes regular, in-person instruction on a district-wide basis.
"We believe that the ​requirement​ of staff to teach in-person, in-building district-wide — as is stipulated in the current hybrid model — puts the health and safety of our school community at risk unnecessarily," the letter states.
WEA listed a series of observations that it states supports its opposition to in-person learning. The group also outlined a new plan for fully-remote instruction that includes one-on-one or small-group academic intervention​ by staff members ​who o​pt-in​ to in-person instruction.
The association also requested an emergency meeting with the Winooski School District board of trustees be held by Aug. 21. Superintendent Sean McMannon stated in an email that no such meeting has been planned.
Here is some of what the WEA is arguing:
The pandemic-caused academic and social-emotional challenges of in-person instruction will cause a disproportionate, negative impact at-risk and marginalized students.
English Language Learners: Mask-wearing, and the inability to see teachers' and fellow students' mouths move, will disproportionately impact English Language Learners​ (ELLs)​, of which Winooski has many.
"Teachers can better and more authentically communicate with students verbally and nonverbally — i.e. through facial expression — through remote platforms," the letter states.
BIPOC students: According to WEA, more of the district's Black, Indigenous, and People of Color students (BIPOC) live in multigenerational households​ than its white students, putting BIPOC families at higher risk of falling seriously ill or dying from COVID-19 due to school resuming partial in-person instruction.
Winooski School District buildings have serious ventilation issues that cannot be fixed in their entirety before the start of the school year.
HVAC systems: Scientific research is finding COVID-19 could possibly be spread through airborne transmission, and the district's heating, ventilation and air conditioning (HVAC) systems will "not supply sufficient fresh air ventilation."
​In the district's Capital Project plan, almost 1.5 million dollars is set aside for HVAC improvements, but WEA argues those upgrades will not be made before students are expected to step back into school buildings Sept. 8.
The requirement for all staff​ ​to administer in-person instruction violates Article 5-2: Working Conditions, in the faculty contract.
Article 5-2: "Employees will not be required to work under conditions which constitute an imminent threat to their health and safety when such a threat is established by local, state and/or federal health or safety officials." ​
WEA argues such a threat ​has been established.
Colin Robinson, political organizer at the Vermont NEA, the union of Vermont educators, said the letter is a proposal, not a threat.
"It's a proposal for what school reopening can look like to ensure equity for all students and put health and safety first for everybody," Robinson said.
Read the whole letter: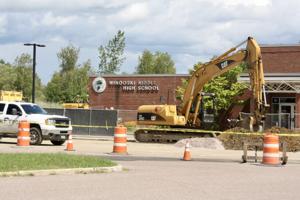 Colchester Sun