Cheers! We made it to the end of the another week. Celebrate by going out or staying home this weekend.
Start your holiday shopping early, in-person or online. Either way, you can support local businesses — take advantage of deals and discounts at the Church Street Marketplace in Burlington, or shop virtually during the 68th Annual Craft Vermont Show.
Looking for entertainment? You can experience that in-person or virtually this weekend too. Drive up to St. Albans for beer and live music, or stay home and laugh with local comics from the comfort of your couch.
Stargazer Trail Hike, 6:30-8:30 p.m., Friday, Nov. 20 — Essex
Join Madeline McHose on a guided walk through the trails behind Foster Road Park and Essex Middle School. This easy trail hike is a great way to learn more about the extensive trail network. From the prairie fields and a sandy lookout over the Circ, Essex Rec hopes to have a beautiful view of the night sky. This is open to all ages and costs just $10 for Essex families and $15 for non-Essex families.
Eat and drink while listening to Andy Hoadley as he performs classic and original songs on acoustic guitar. He'll combine Americana, blues, rock, folk and country together for a pleasurable listening experience. Due to COVID-19 guidelines and limited seating, reservations are required for all guests and must be made online before arriving. Visit 14thstarbrewing.com/reservations to learn more and be sure to select "The Room Indoor Seating" to enjoy the music.
The Vermont Comedy Club, in partnership with Vermont Tourism, will be presenting a live stream of local comedy at 7 p.m. Saturday, Nov. 21. Tune in on Vermont Tourism's YouTube channel and Facebook to watch it live. The show will showcase the incredible comedic talent of the Green Mountain State and is sure to make you laugh.
Shop directly from a variety of Vermont artists and crafters, enjoy member demonstrations via live video from their home studios, live video chats, win prizes and more. Admission is free and all are welcome.
There's no need to wait for Black Friday to score holiday deals. Drive into Burlington this weekend to shop early and avoid the crowds. As a reward, experience more than 20 discounts on Church Street Marketplace. Spend $25 or more at a local shop on the street and receive a voucher for free hot chocolate all weekend long while supplies last. See the full list of deals.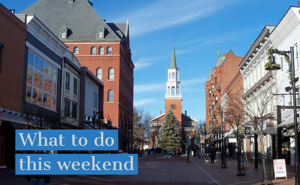 Colchester Sun