Happy Friday! All of the events featured in this week's newsletter are two days long, so if you can't attend one day, don't worry, there's still another chance. This weekend, celebrate fall by immersing yourself in local maple products, tasting Oktoberfest or viewing local art. You can even begin to get ready for winter at a local ski and snowboard swap.
If you haven't had a chance yet, catch up on reading about who is running locally in the 2020 election. Our coverage will continue next week.
For some, this weekend might be a long one, with the added bonus of Monday for Indigenous Peoples' Day. Whether your weekend is three days or two, I hope you find time to get outside and try something new.
Celebrate the season at Black Flannel Brewing's first annual Oktoberfest. Order German classics like pretzels, bratwurst and pork schnitzel from the brewery's special menu and be sure to try one of the new beers on tap. Live music will also be on site, so be sure to make a reservation in advance.
Visit Gerald K. Stoner's Sculpture located at 185 River Rd in Underhill and experience an outdoor exhibit of over 50 welded steel sculptures, set against the backdrop of fall's foliage. Seasonal treats will be provided.
The annual Smuggs Ski and Snowboard Sale is moving this year to the Champlain Valley Expo Center. Shop tons of gear and great deals at the largest and longest running swap of the season. A maximum of 75 shoppers is allowed in the space at one time, and shoppers will have to register for a one-hour time slot prior to arrival.
Maple 100, a statewide celebration sponsored by the Vermont Maple Sugar Makers' Association and the Vermont Agency of Agriculture, is coming to Palmer's Sugarhouse in Shelburne this weekend. Visit the sugarhouse for all the maple sweetened you crave – maple candies, ice cream, brittle, cookies, donuts and much more. Saturday features music by Mystic Party Band, food by Mediterranean Mix & Baba's Tacos beer from Frost. Sunday features music from The Wild Parsnips, food by Mediterranean Mix & Catering by Dale as well as Maple inspired spirits from Barr Hill.
---
Staff Writer Bridget Higdon has a few ideas for using up the last of the apples at the bottom of your pick-your-own bag. You've probably already made a pie and maybe even a batch of apple sauce. Your kids might be tired of finding one in their lunch bag everyday, so use up the misfits before they go bad in a kale or spinach salad for Saturday lunch. Cut away any bruises or soft spots and slice them thinly to add to a skillet of Sunday morning pancakes.
You only need one apple for this curried lentil, squash and apple stew. When I made it last week, my apartment was quickly smelling of garlic, curry and ginger and it was the warm, comforting dish I needed after a chilly bike ride.
No special occasion is necessary to make this apple crisp for one. Treat yourself to that last apple by mixing it with ingredients you probably already have — cinnamon, brown sugar, butter and all purpose flour. If you've got some ice cream in the freezer, I fully support scooping that on there as well.
Last weekend, I recommended visiting the Richmond Farmer's Market, which is happening again from 3-6 p.m. today. The week before, I said you should grab some ice cream at Fisher Brother's Farm in Shelburne.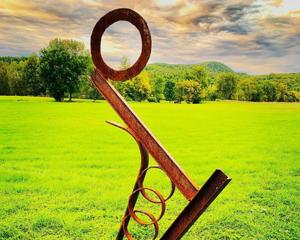 Colchester Sun