Happy Friday! Fall calendars in Vermont are typically filled with craft shows and artist markets. While most were cancelled this year due to COVID-19, one Milton resident found a creative solution for showcasing her town's plethora of crafters and makers this Saturday.
No plans this weekend? Here are four local events to check out with family, a few socially-distant friends or by yourself.
This weekend is also a great time to return your absentee ballot if you haven't already. Drop it in the town clerk's secure drop box, and then find out if it was received.
Join Petra Cliffs and Outdoor Gear Exchange for another LBGTQ+ Climbing Night. While anyone is welcome anytime, this planned event gives beginning climbers a reason to grab a few friends or meet some new ones for a social and physically-distanced evening of challenge and fun. Day passes range from $13-18.
Milton Craft Hop, 9 a.m.-4 p.m. Saturday, Oct. 24 — Milton
Get a head start on your holiday shopping while supporting local crafters and makers at Milton's first-annual craft hop, scheduled from 9 a.m. to 4 p.m. this Saturday. Over 80 vendors are participating. Find wreaths and fall centerpieces, jewelry, photography and homemade dog treats and more.
Greene Mountain Nutrition and Smoothies is celebrating it's five-year anniversary with $5 smoothies and discounts on apparel, CBD products and supplements. Every smoothie purchase gets customers one raffle ticket for a chance to win gym memberships and more.
If you're getting married soon, grab some family or friends and head to the Burlington Bridal Show this Sunday at the DoubleTree Hotel in Burlington. Meet area wedding professionals while enjoying drinks and appetizers. To ensure social-distancing, attendees can visit for an hour and half. Tickets are $10 and should be purchased in advance.
---
Staff Writer Bridget Higdon recommends getting into the Halloween spirit a week early by heading to the Sunset Drive-in in Colchester this weekend for a scary movie. Four Halloween-themed movies are playing on two screens Friday and Saturday night.
"Nightmare on Elm Street 2" and "Hocus Pocus" are playing first just after 7 p.m. If you're in the mood, stay for a double feature, and see "Friday the 13th" or "Beetlejuice" at 9:15 p.m.
Not a scary movie fan? Throw it back to 2001 with the animated "Monsters, Inc." which is playing at 7:25 p.m. on Screen Four.
Save time by purchasing tickets online, and save money by bringing your own snacks.
Last week I suggested four places to pick-your-own pumpkin. The week before, recommended a few recipes for using up the last of your apples.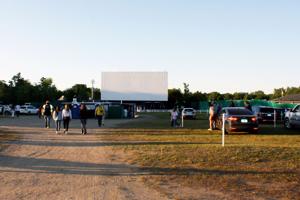 Colchester Sun