Over 110,000 registered Vermont voters have already returned their ballots for the general election on Nov. 3. If you've put your ballot in the mail or placed it in your town's secure drop box, you may be wondering: what happens to it now and what can I do to make sure it's counted?
1. Check to make sure your ballot has been received.
Watch St. Albans City Clerk Curry Galloway explain how to check your ballot's status:
You can track the status of your ballot by logging into your My Voter Page at mvp.vermont.gov. You can see if your ballot has been requested, sent or received as soon as the clerk updates your information. If it has been received by your town clerk, your ballot status will say "Received" and the clerk will check your name off to indicate you have voted.
Town clerks update a ballot's status before it is sent through the tabulator. All ballots received by 7 p.m. on Election Day will be counted.
If your ballot is for some reason found defective (it wasn't signed, black ink was not used, etc.) that will be noted on your My Voter Page.
2. If your ballot is marked "defective" there are no do-overs.
Your ballot will only be defective if all of the instructions are not followed. You can watch Galloway explain how to fill out your ballot here. Common reasons for a defective ballot include: the envelope wasn't signed, you voted for more candidates than allowed in any given race, or you voted using something other than black pen or pencil. If your ballot was defective, call your town clerk's office to find out why and to learn for the future.
3. Ballots are kept safe until counted by Justices of the Peace.
When mailed ballots are received by town clerks, they are immediately placed in a secure ballot box. In Vermont, Justices of the Peace may begin processing ballots returned by mail through the tabulator 30 days prior to the election. All ballots are processed in the presence of at least two election officials who will be from different political parties.
Towns that count their ballots by hand will deposit absentee ballots in a secure ballot box and count them with any ballots cast at the polls on Election Day after the close of the polls. The counting process is conducted in accordance with guidance issued by the Secretary of State's Office.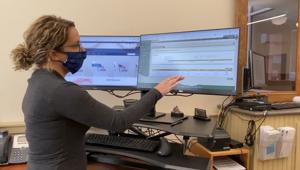 Colchester Sun