MILTON — The Vermont Fish and Wildlife Department celebrated the 100th anniversary of Wildlife Management Areas (WMAs) and its legacy of conservation Thursday at the Sandbar WMA in Milton.
The Sandbar, located at the mouth of the Lamoille River and on the shore of Lake Champlain, became the state's first WMA when its was purchased and conserved in 1920.
Since then, the state has acquired and maintained 100 WMAs in a variety of locations. Twenty-four are in the Essex District, which includes Chittenden, Franklin, Addison and Grand Isle counties.
"Access to public lands is a public good and should be a public right," Tom Berry, Sen. Patrick Leahy's policy adviser for conservation, energy and natural resources, said.
Thursday's event included a variety of speakers who spoke to the importance of WMAs for recreational uses like hunting and fishing and for the conservation of natural habitats and wildlife.
John Austin, land and habitat program manager at Vermont Fish and Wildlife, said the key to Vermont's success with WMAs comes from a focus on diverse partnerships and diverse uses.
"The conserved Lake Champlain wetlands, like the ones here at Sandbar, exist because of help from The Nature Conservancy," he said.
The state works with a number of conservation organizations, including The Nature Conservancy and Vermont Audubon, to manage and study these areas.
Heather Furman, director of the Vermont chapter of The Nature Conservancy, said the pandemic has shown many people the value in having public land close to home.
"It's essential that we provide Vermonters with access to the outdoors," she said.
Wildlife Management Areas bring together a variety of people who appreciate and enjoy the outdoors — hunters, fishers, biologists, hikers — and this is what makes their conservation vital, she said.
Margaret Fowle, a conservation biologist with Vermont Audubon, said WMAs across the state provide important sanctuaries for a broad assemblage of bird populations.
"The Sandbar in particular is important for Eagles, Ospreys and Pied-billed Grebe," she said.
Vermont's 100 WMAs consist of over 130,000 acres of conserved land and are maintained by the state through funding from sporting license sales, the Federal Aid in Wildlife Restoration Fund and the Vermont Habitat Stamp.
All WMAs are open to hunting, trapping, fishing, wildlife viewing and other wildlife-related outdoor activities.
Find one near you by using the WMA Locator. You can also take a virtual tour of the Sandbar and all other Vermont WMAs on YouTube.
[embedded content]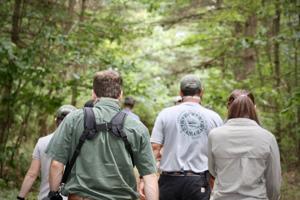 Colchester Sun