MONTPELIER – Prompted by a weeks-long surge in cases of COVID-19 nationwide, Gov. Phil Scott announced Friday an executive order mandating face masks be worn in public starting Aug. 1.
Under the order, most Vermonters over the age of two years old will be required to wear a face mask in public whenever social distancing practices can't be maintained, regardless of whether a person is indoors or outdoors.
Exceptions are carved out of the order for people with medical conditions that could be made worse by wearing a mask and for those participating in strenuous activities and exercise. Vermonters will also be allowed to remove their masks while eating or drinking.
Scott, who has hesitated to follow neighboring states' leads with mask mandates in favor of educational initiatives promoting mask wearing, acknowledged the order represented a reversal during a press conference on Friday.
"I've preferred to focus on education… and I still believe this has been the right approach to date," Scott said Friday.
"But," he added, "looking at the situation in the south and west, and knowing we'll have more people coming to Vermont and more Vermonters inside as the weather gets colder, we need to make sure we're protecting the gains we've made."
COVID-19 is a respiratory disease caused by an easily transmitted novel coronavirus. While the disease typically results in only mild to moderate symptoms, COVID-19 can cause severe and even life-threatening illness in some cases.
According to Michael Pieciak, Vermont's financial regulation commissioner, the disease's spread continued to appear within the state's comfort zone for remaining open, with the state's health department reporting roughly the same amount of additional COVID-19 cases this week as last.
There were still few hospitalizations related to the disease, according to Pieciak, but, as of Friday's press conference, no one in Vermont was seeking a stay in an intensive care unit due to COVID-19.
As of Friday afternoon, Vermont's health department reported there having been 1,385 known cases of COVID-19 in Vermont since the disease was first observed in the state in March. Fifty-six have died in Vermont due to complications of the disease.
Where the state was concerned, according to Pieciak, was with the spread of COVID-19 outside of Vermont, which the financial regulation commissioner called "staggering" during his presentation on Vermont's official modeling for COVID-19's spread on Friday.
While cases in Vermont have remained low with only a handful of cases reported each day, cases have surged in much of the U.S., with the country's total number of cases since March cresting the 4 million mark earlier this month as states like Texas and California see thousands of new cases every day.
COVID-19's growing spread has also creeped into the northeastern U.S., where, according to Pieciak, several states whose caseloads are monitored by Vermont for compliance with the state's travel restrictions have continued to see caseloads rise above Vermont's metrics for safe out-of-state travel.
"There are relatively few and scattered counties that saw improvement this week… and there are many more counties where their status has worsened, including many counties in the northeast," Pieciak said.
Scott said he feared COVID-19's growing spread in other parts of the country could creep into the northeastern U.S., prompting the governor to issue Friday's mask order in anticipation of the disease's eventual return to northern states where initial outbreaks of COVID-19 appeared largely under control.
The order, Scott said, was also issued to avoid having to order the same economic shutdown he mandated in March, when COVID-19 was beginning its spread through much of the northeastern U.S. and when Vermont reported its first case of the disease.
"I want to assure you while these trends and projections are concerning, we're still in very good shape as a state, but it is time to prepare," Scott said. "Rather than waiting, like other states have, until it's too late, I feel like we have to act now to protect our gains, which has allowed us to reopen the economy."
The Centers for Disease Control and Prevention (CDC) and World Health Organization both recommend mask wearing as a means to mitigate COVID-19, which is typically spread through respiratory droplets people release while coughing, sneezing or even when talking.
In the past, Scott suggested Vermonters would bristle enough at a mandate that requiring masks could encourage some to explicitly not wear a mask, citing the potential for backlash as his primary reason for preferring education over explicit orders.
On Friday, Scott pleaded with those who might push back against a mandate, asking them "to look at the data – the real data and not just something you see on Facebook – and realize that the science is real."
"Even if the president, who's been a skeptic, is now convinced masks will help get us through this," Scott said. "The CDC said the surge in the sunbelt, places that previously resisted masks, could be controlled within four to six weeks if disciplined enough to wear masks."
He also asked that those who might panic at the sight of someone without a mask be "understanding" and grant the individual the "benefit of the doubt" due to there being acceptable reasons under the order for not wearing a mask.
"I want to acknowledge there are some who can't wear a mask for health reasons like asthma or even claustrophobia, and there are times when masks are not required, even in this mandate," Scott said, "so let's give each other the benefit of the doubt."
Governors and officials in more than 30 states have now issued some form of a statewide mask mandate in response to COVID-19, according to the AARP. While orders can vary from state-to-state, most orders are similar to Vermont's, requiring people to wear masks when social distancing is impossible.
Several Vermont communities, including Burlington and South Burlington, have already issued their own respective mandates requiring face masks in public spaces.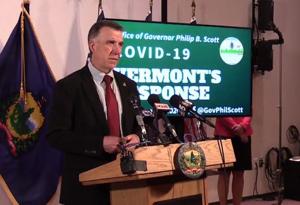 Colchester Sun