While U.S. Citizenship and Immigration Services (USCIS) has announced that it will not furlough workers this year, the news is not all good for Vermont workers.
The announcement from USCIS states that the furloughs were avoided as a result of "unprecedented" spending cuts and an increase in revenues, before adding, "aggressive spending reduction measures will impact all agency operations, including naturalizations, and will drastically impact agency contracts."
USCIS states cost savings will come from "the descoping of federal contracts that assist USCIS adjudicators in processing and preparing case files as well as a myriad of other support activities."
At the Vermont Service Center, which is based in St. Albans and has satellite offices in Essex, 400 contract employees process and prepare case files which are then passed to USCIS staff who determine whether the applicant will be allowed entry to the U.S. or granted citizenship, a process known as adjudication.
Descoping the contract means reducing its scope, that is what it covers. What the possible employment impacts could be from that descoping is unclear, although the Sun has reached out to both USCIS and the union representing the contract employees for additional information.
USCIS also claimed the cuts necessary to avert the furloughs will have a lasting impact on the agency.
"Averting this furlough comes at a severe operational cost that will increase backlogs and wait times across the board, with no guarantee we can avoid future furloughs. A return to normal operating procedures requires congressional intervention to sustain the agency through fiscal year 2021," stated Joseph Edlow, USCIS deputy director for policy.
According to USCIS, the impacts to the agency's operations will include increased wait times for pending case inquiries, longer processing times, and increased adjudication times. Naturalization ceremonies will continue, USCIS said.
"Congress must still act on a long-term solution that will provide USCIS with the necessary financial assistance to sustain the agency throughout FY 2021 and beyond," USCIS stated.
There has been no indication the USCIS has proposed any such solution.
On Saturday, the House of Representatives unanimously approved a bill to temporarily address USCIS's funding shortfalls by increasing the fee for premium processing of applications, making a wider array of applications eligible for premium processing, and specifying that the resulting funds may be used to address the backlog in the processing of other types of petitions for entry and citizenship.
USCIS will also be increasing fees by an average of 20 percent starting on Oct. 2. It is unclear why additional funding would be needed in fiscal year 2021 given those increases. The agency has historically been self-funding, paying for its operations with the fees it charges.
Danielle Spooner, who leads the USCIS council within the American Federation of Government Employees (AFGE) previously told the Sun that the Trump administration's continual changing of the guidance and instructions for processing applications has created delays within the agency.
In addition, the administration halted some immigration programs through the end of 2020 in June and premium processing for people coming to the U.S. for work through the end of fiscal year 2021 in March.
Sen. Patrick Leahy, D-Vt., who has been pushing USCIS for months to avoid the planned furloughs of USCIS staff hailed the decision on Tuesday.
"It is welcome news that these women and men will be able to continue to assist the thousands of United States Citizens, employers, and students in Vermont and around the country who rely on the work of USCIS and would have been impacted by the loss of services," he said. "But the emotional strain placed on these members of our communities who did not know when their next paycheck would come was a completely needless crisis imposed by the Trump Administration. I look forward to continuing to work on a long term solution to ensure the solvency of this vital agency into the future."
It was Leahy who previously discovered that a claimed $571 million shortfall at USCIS was, in fact, a surplus of $230 million, giving the agency to keep workers employed through the end of fiscal year 2020 without layoffs.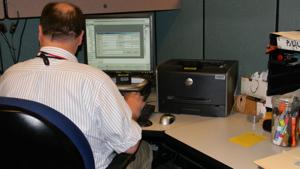 Colchester Sun