ST. ALBANS — The planned furlough of more than 13,000 employees of U.S. Citizenship and Immigration Services (USCIS) at the end of August will be felt here, according to union leader Danielle Spooner.
Spooner, a St. Albans City resident, is president of the council of the American Federation of Government Employees (AFGE) which represents all USCIS workers across the country and abroad.
She's been spending much of her time in Washington, D.C., working with Congress to try and avoid the pending furloughs, which would impact approximately 1,100 of the 1,500 employees of the Vermont Service Center (VSC). Most of those workers are in St. Albans, with two satellite offices in Essex.
VSC also employs several hundred contract workers, who so far have not received layoff or furlough notices.
"We're doing everything we can," Spooner said. "Hopefully, we can get the furloughs stopped."
Sen. Patrick Leahy, D-Vt., has argued the furloughs are unnecessary, that USCIS has enough funding to pay people through the end of the fiscal year on Sept. 30.
On Oct. 2, USCIS will raise its fees an average of 20 percent. "Once those go into effect, it won't be long and they'll have what they need to pay people," Spooner said.
Asked Thursday if they intended to proceed with the furloughs, despite members of Congress pointing out those furloughs were unnecessary, a USCIS spokesperson replied: "As of July 28, approximately 13,400 USCIS employees received notice that, without congressional intervention, they would be administratively furloughed starting Aug. 30. USCIS will respond to congressional correspondence via official channels."
That is the entirety of the statement.
Spooner has sent a letter to USCIS leadership asking that they reconsider the planned furloughs. Leahy has done the same.
Spooner hasn't "heard anything from the agency, but the messages they're sending indicate they're going to go through with it."
Furloughed employees will receive health insurance. Spooner said that while USCIS can terminate workers after 30 days, they have said they will not. It's a promise she got in writing.
"USCIS has difficulty keeping its promises to its employees so I got it on paper," she said.
Spooner is concerned about the impact of the furloughs on other businesses in the area. Those 1,100 employees are grabbing lunch and coffee in local restaurants and shopping in local stores, all of which, she noted, are still reopening.
USCIS had initially announced layoffs in July, but backed off after Leahy and others in Congress pointed out the agency had a surplus, not a deficit.
In July, Gov. Phil Scott said USCIS had not provided the Vermont Dept. of Labor with information which would help the department prepare to process applications for unemployment assistance from the furloughed workers and speed up the processing of those applications.
Asked if that was different this time around, Spooner said it was not. "They're still not communicating," she said, adding that lack of communication wasn't a surprise.
Like the U.S. Post Office, USCIS isn't funded through taxes. It pays for its own work with the fees it charges to applicants seeking U.S. citizenship or visas to visit the country.
AFGE has been pulling out all of the stops to prevent the furloughs, including lobbying Congress for a loan to the agency.
That funding is in the currently stalled coronavirus relief bill. It's also in a stand alone House bill which could be attached to another piece of legislation. Spooner said she wrote to House Speaker Nancy Pelosi to suggest it be attached to legislation intended to stop the administration's changes to the U.S. Postal Service.
AFGE is also doing a media blitz, warning about the economic harm which could be done from the layoffs not only to the communities like St. Albans where USCIS has service centers, but to the economy as a whole if legal immigration is shutdown.
'The end of immigration as we know it.'
Visa applications are down — President Donald Trump shut down some programs when the novel coronavirus pandemic began — but there is an ample backlog to keep staff busy.
Under Trump, changes have been made to regulations and policies almost daily, according to Spooner. The constant changes have delayed processing of applications. "That's how a backlog is created," she said, "because we can't adjudicate them until we get clear guidance."
Among the applications VSC staff aren't processing are students from other countries seeking to attend American colleges and universities. Trump has barred them from entering the U.S. during the pandemic.
It's a huge financial blow to those institutions, according to Spooner. "When those people come here they pay cash," she said. "That's a devastating hit."
Also poised to take a hit are many of the nation's vegetable and fruit growers who are entering harvest season without the seasonal labor they rely on. "Americans don't want to do that [work], and they don't apply for it," Spooner said.
VSC processes visa applications for skilled workers, as well, including premium processing for which the applicants pay significantly more. Some in the business press, including Forbes magazine, have been sounding the alarm about what the loss of those employees could mean for businesses.
Spooner said the Trump administration has been "the end of immigration as we know it."
"The entire asylum program has been devastated," she said.
"You don't destroy something to build it back up and that seems to be what they're trying to do with USCIS, the post office, and a number of other things," Spooner said.
That destruction has taken a toll. It's left employees in ethical quandaries, according to Spooner, as the administration's instructions contradict the oaths sworn by USCIS employees.
"At the national level USCIS has never been politicized the way it has now," said Spooner. "We follow the law. Our job is to protect the poor and the people who come to our borders."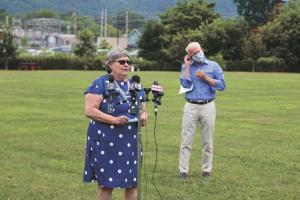 Colchester Sun