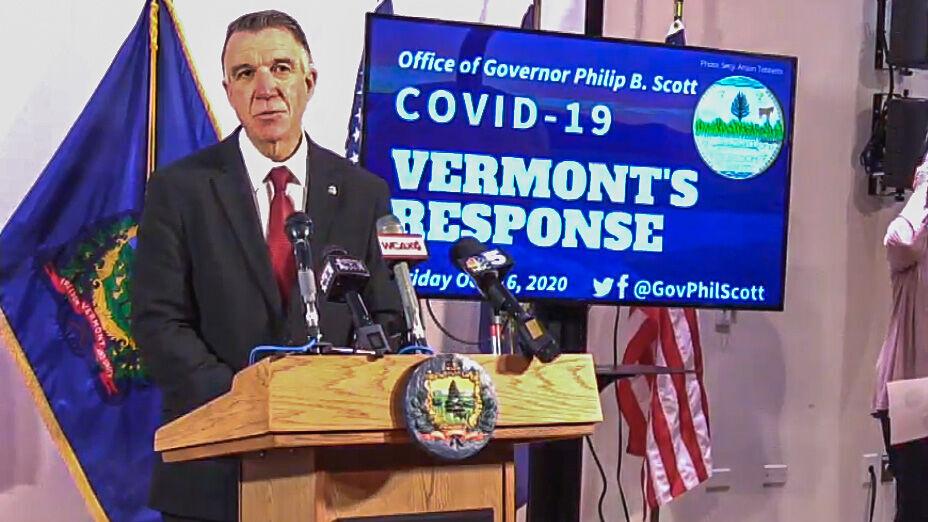 MONTPELIER — For the first time since July, a Vermonter has died of COVID-19. The death comes as the state announced new testing measures and required quarantine for all non-essential travel outside of the state.
COVID-19 "can still devastate families and communities," said Vermont Health Commissioner Dr. Mark Levine. "Each death is not just a number but a person who's life was tragically cut short."
"To stop the spread and protect each other, we need to act and we need to act now," he said Tuesday.
For months, Vermont has kept the spread of COVID-19 low within the state, but that is changing. Case counts are expected to rise to between 40 and 60 new cases per day over the next six weeks, according to Finance Commissioner Michael Pieciak.
The state's success has led many to become lax in their precautions, said Gov. Phil Scott. However, he added, "We've proven we can change our trajectory, but we need to dig deep so we can keep and double our efforts so we can protect the most vulnerable and keep our schools and economy open."
Directly addressing those who don't take precautions to prevent the spread of COVID-19, Scott said, "simply refusing to do your part is dangerous to the rest of us, it puts people you know, and in many cases people you love, at greater risk."
He urged Vermonters to think about what they can do to stop the wave of infections, which is leading to more hospitalizations and will lead to more deaths.
"I'm asking you to make the right choice for the right reasons," Scott said. The right choice includes wearing a facial covering, keeping physically distant and avoiding unnecessary gatherings.
To address the rise in cases the state announced several policy changes.
Anyone visiting or returning to Vermont from another state must quarantine for 14 days or seven days with a negative COVID test.
Travel to and from other states without the proper quarantine continues to be a source of cases in Vermont, Scott said. He is asking Vermonters to avoid non-essential and unnecessary travel.
"If you don't need to travel right now, don't," Scott said.
For several months, Vermont had been allowing travel without quarantine to and from counties which met the state's standard for low spread of COVID-19, but now just 30 counties in the entire country meet that standard, said Pieciak.
Testing will be expanded.
The state is entering into a partnership with a Massachusetts company to provide testing seven days per week in many parts of the state.
In addition, the state is adding K-12 school staff to its schedule of people who are regularly tested. The Dept. of Health is working with the Agency of Education to offer testing in one quarter of all schools each week.
The reason teachers and school staff were chosen, Levine said, is because they are a large population which can be easily identified and tested. Surveillance testing of individuals who don't show signs of illness helps public health officials identify how many people in the community may have COVID but are asymptomatic.
The Dept. of Public Service will be resuming compliance checks at lodging facilities and places where people congregate.
The primary goal is to assess how well the rules for travel and social distancing are being followed, explained Public Safety Commissioner Michael Schirling.
"If substantial non-compliance is found… referrals may be made to the attorney general's office," Schirling said.
On Friday, Scott and Levine released a statement discouraging people from taking part in gatherings of more than 10 people.
On Tuesday, administration officials urged Vermonters to think carefully before gathering in larger groups or traveling for the holidays.
Peiciak shared data showing that those provinces where Canadian Thanksgiving is commonly celebrated have had a 200 percent increase in cases since the holiday on Oct. 12, while those which do not usually celebrate, namely the Maritime provinces, have not shown an increase.
Canadian health officials are attributing the case increase to the travel and indoor celebrations associated with the holiday.
In Vermont, contact tracers are contacting adults who attended Halloween events, according to Levine, who urged Vermonters to avoid the kind of gatherings at which they might let down their guard.
"Our entire region is in danger from the surge in COVID cases happening right now," Levine said. "How we choose to celebrate affects our family, our community and Vermont."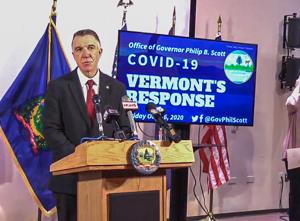 Colchester Sun