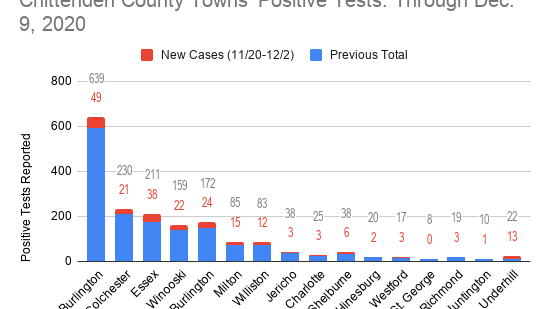 The Vermont Department of Health has released the latest figures of COVID-19 positive testing prevalence in communities, adding the total number of cases in each town that were discovered between Dec. 3-9.
Colchester remains as having the third-most cases in Vermont since March 5, adding 21 in the recent update for a total of 230 since the spring. Only Burlington and Barre City have had more positive tests in that time with 639 and 336, respectively.
Among the top-five towns in Chittenden County, however, Colchester had the lowest number of new cases added in the last week. Essex, at third, saw 38 additions, South Burlington, at fourth, saw 24 additions, and Winooski, at fifth, saw 22 additions.
Across the Colchester School District, there were no members of the education community reported as having been in a building while infectious, leaving the district's number for such at three overall.
Through December 9, Colchester accounted for 13 percent of cases in Chittenden County and 4.2 percent of those in all of Vermont.
Throughout the county, Chittenden saw a total of 339 new cases in the recent update. Underhill had the biggest percentage increase as it added 13 to its previous total of just nine. Statewide, Vermont had 771 new cases and 14 deaths reported between Dec. 3-9.