MONTPELIER – Three Vermont Dept. of Motor Vehicle (DMV) offices will reopen next week after months of being closed due to COVID-19, the Scott administration announced Tuesday.
According to a Tuesday statement from the DMV, offices in Montpelier, Rutland and South Burlington will be reopened to appointment-only visits starting next Monday.
The DMV is asking that appointments be made through the department's new online scheduling system and is encouraging Vermonters to opt for services that can be handled remotely – either online or through mail – when possible, due to the potential for in-person visits to spread COVID-19.
"While DMV employees have continued to work daily covering mail, online and email requests, our goal always has been to reopen as quickly as possible with health and safety protocols in place," DMV Commissioner Wanda Minoli said in a statement.
In the wake of pandemic-related shutdown orders limiting DMV services to those that could be handled form afar, the motor vehicles department gradually built out remote service options.
Some limited in-person services have also resumed after an initial outbreak of COVID-19 in Vermont appeared to come under control, including the return of road tests in June.
In their Tuesday statement, the DMV listed services that could be handled remotely, including license renewals, replacement licenses, registration renewals, replacement registration, address changes, learner permit exams, paying reinstatement fees and "many commercial vehicle transactions."
The DMV says more information about what services can be conducted online and by mail is available at https://dmv.vermont.gov/mydmv.
According to their statement, the motor vehicle department is exploring ways to offer an "online solution" for temporary vehicle registration and temporary plates for private sales.
The DMV said it would also be looking for ways to use its new online scheduling program to allow for the resumption of some limited in-person services in the department's other branches around Vermont.
For the department's three offices reopening next week, appointments are available between 8 a.m. and 4 p.m. Scheduling for appointments next week begins on Thursday, according to the DMV's statement.
"Throughout the COVID-19 State of Emergency and temporary closure of our offices, we have been fully aware of the services that Vermonters need and we have been pursuing solutions to better serve them," Minoli said in the department's statement Tuesday.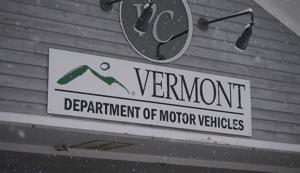 Colchester Sun