Vermont officials called an outbreak of COVID-19 among Vermont's out-of-state inmates housed in a Mississippi prison "pretty much over' during a news conference Friday.
Questioned about the status of an outbreak of COVID-19 within the Tallahatchie County Correctional Facility (TCCF) pod housing Vermont inmates, Vermont's human services secretary Mike Smith said almost every inmate previously testing positive for COVID-19 were now "in recovery."
Of the 179 out-of-state inmates who tested positive for COVID-19 in the Mississippi prison, all but one were now believed to be recovering and transitioning into the prison's general population. An inmate still believed to have the disease remained in quarantine, according to Smith.
There were currently no Vermont inmates housed in the Tallahatchie County prison who were either hospitalized or in an infirmary due to complications of COVID-19.
"I think we're pretty much looking at is as over," Smith said of the outbreak Friday.
Cases of COVID-19 were first reported among Vermont's out-of-state prison population this summer when several inmates returning to Vermont tested positive for COVID-19 upon their arrival to a corrections facility in Rutland County.
By the end of August, 179 of Vermont's out-of-state inmates – more than 84 percent of those housed by the state in Mississippi – had tested positive for COVID-19. Another 28 had tested negative and four who would ultimately refuse testing would be quarantined under the presumption of a positive test.
According to Smith, the TCCF pods housing Vermont's out-of-state inmates would now be rotated through the Vermont Dept. of Corrections (DOC)'s mass, facility-wide testing regimen, with the first tests in Mississippi planned for Sept. 28.
Vermont currently houses a total of 211 inmates in TCCF, a private prison operated by CoreCivic, one of the country's largest private prison companies, in Tutwiler, Miss. The state typically sends inmates out-of-state when space is limited inside Vermont's prisons.
According to comments from Smith Friday, the DOC planned on likely contracting with CoreCivic to house its out-of-state inmates in Mississippi for another year.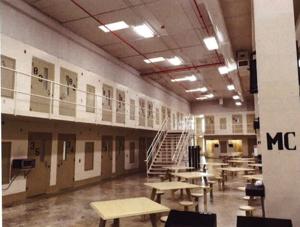 Colchester Sun