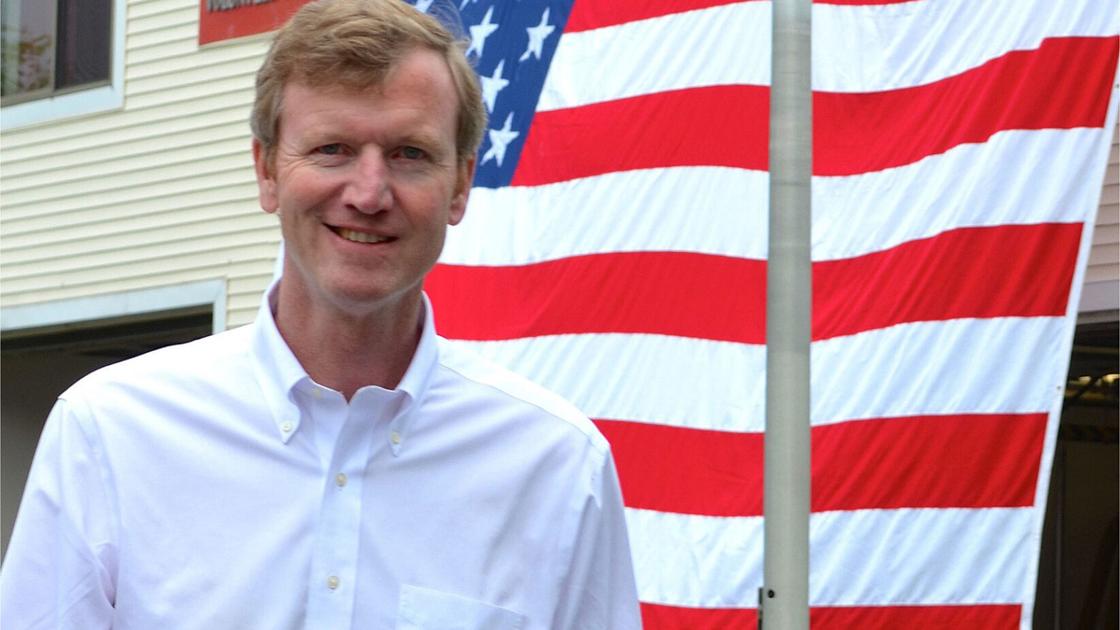 ST. ALBANS — Republican Scott Milne is running for lieutenant governor because he believes he's the right person to help Vermont's small businesses bounce back from COVID-19.
He grew up in Barre and was raised by parents who both held political office in Vermont. Milne is the president of Milne Travel, a travel company with many branches.
To help readers and voters understand who he is and what he believes is best for Vermont, the we interviewed Milne earlier this week. Watch the interview on our Facebook page. Here's what he had to say.
Milne has run for state office before — for governor, the Vermont House, the U.S. Senate — but has been unsuccessful. Why is this election and the lieutenant governor position the right fit for him?
Milne answered this question, but took a detour to start. He chronicled his move from Vermont to California and back again, a story peppered with details about attending a small college in Southern California, getting married and eventually moving what he joked was $400 worth of furniture back to Vermont to take on the family travel business.
"I've grown it into a pretty good company, which comes to your question," he said. "Coming into COVID we were fortunate and blessed…but now every office between Westchester, New York and Bangor, Maine is closed and we have people working virtually."
As a business owner, Milne said he knows firsthand how the pandemic has affected the Vermont economy and believes his experience adapting a business to the current circumstances will benefit him if elected.
"In Montpelier, I believe we are really going to need people with entrepreneurial experience in business to help us combine what's needed from the government and what's needed from the community," he said.
Over the course of his campaign, Milne has often spoken about the need to support entrepreneurs and small businesses. He wants to "build back Main Street." If elected, how, as lieutenant governor, does he get this done?
Though he said he didn't want to turn the interview into a campaign opportunity for himself, Milne held up a copy of his ProgressVT plan, a list of promises and ideas for getting Vermont's economy back on track.
Before speaking about his plans for small business, he said three of the most important ideas in ProgressVT are: making life better for seniors, expanding broadband and revitalizing the state's farm economy.
"A lot of them are ideas we took from Democratic senators, so it's designed to demonstrate from the get-go that I'm coming in as a bi-partisan individual who wants to work across the aisle to get things done," Milne said.
When he did return to the question several minutes later, he said he has a good handle on what Main Streets need and is looking forward to the task.
"I believe I have a good ability to articulate why Vermont is a good place to bring jobs to," he said. "And I will have a relationship with all of the top employers in Vermont, because it's good to have a relationship."
In ProgressVT, Milne presents the idea of creating an Agency of Public Safety within the state government. How, in his view, would an Agency of Public Safety fit into current discussions of social justice and police reform?
Right off the bat, Milne made sure to mention Senator Jeanette K. White, a Democrat in the Vermont Senate who first proposed elevating the Department of Public Safety to an Agency.
"It would put all public safety functions under one roof which would make our dollars more effective and more efficient," he said. "It will make our police more accountable which I think is a key ingredient in moving forward safely and responsibly."
Milne said state officials should look at the data in order to be more sensitive to racial justice concerns, but didn't say much else on the topic. He pivoted and said the country's current partisanship on issues like public safety is unfamiliar to him.
"This partisanship that we see nationally is not the Vermont that I grew up in," he said. "I have great memories as a little kid of town meeting and seeing these bigger than life characters get up and pontificate about why this is bad and why someone else is wrong and then we'd all sit down together and have lunch."
What will Milne bring to the lieutenant governor position that might be new or different from past holders of the position?
Since a constitutional duty of the lieutenant governor is to step into the role of governor, Milne said he has the temperament and philosophy that would be needed should that situation occur.
Additionally, Milne said he would bring the ability to be a partner to Gov. Phil Scott, should Scott be re-elected. He did not speak to what his partnership with David Zuckerman would be.
"Too often the lieutenant governor has used the position to undermine what the governor is doing," he said. "I believe Phil Scott needs and deserves a partner."
Over the last few weeks, Milne and his competitor, Democrat Molly Gray, have spent debates attacking each other's voting records and finger-pointing at each other's campaign donors. Is Milne worried at all about voters' perceptions of the lieutenant governor race?
Milne did not answer this question. Instead, he opted for a lofty, one-sentence statement that left a lot on the table.
"I think sometimes the truth hurts, but we're telling the truth," he said.
Throughout his interview, Milne mentioned that if elected, he hopes to work with Democrats to get things done, something that he saw modeled for him in Town Meeting growing up.
"In Town Meeting you might win or lose, but you're still great neighbors for the next year," he said. "That's what's in my heart."
Yet, during the Sept. 29 lieutenant governor's debate hosted by Vermont PBS and Vermont Public Radio, he participated in an intense back and forth with Gray about the way their campaigns are funded, each trying to prove the other is taking money from superPACs.

Colchester Sun