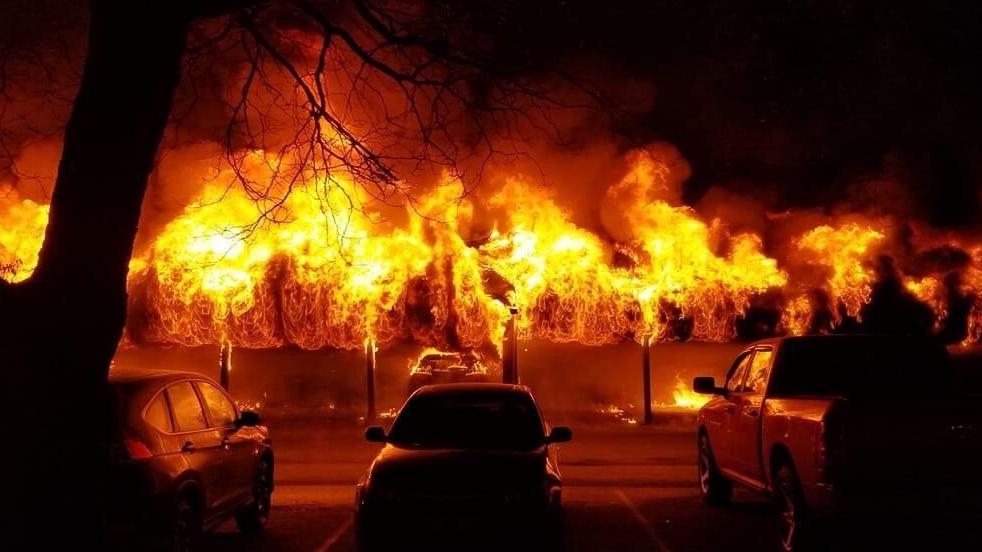 ESSEX — The Essex Police Department (EPD) announced Monday that it has arrested four individuals following the Nov. 14 fire of a carport at 7 Densmore Drive in the Village of Essex Junction.
Tyshawn Lee, 19, of Burlington was charged with First Degree Arson, Criminal Threatening, Obstruction of Justice, Unlawful Mischief, and Petit Theft. He was lodged at Northwest State Correctional Facility for lack of $25,000 bail and was scheduled to be arraigned Monday. Darren Martell, 19, of Colchester and Nathan Morrill, a 26-year-old transient, were both charged with Unlawful Mischief and Petit Theft; they were cited to appear in Chittenden Superior Court. Brooke Plantier, 30, of Colchester was charged with Accessory After the Fact related to her assistance with the crimes of Unlawful Mischief and Petit Theft; she was also cited to appear in Chittenden Superior Court.
EPD and the Essex Junction Fire Department responded around 4 a.m. Nov. 14 to a call of a vehicle on fire inside the village carport. It quickly spread and eventually caused the total loss of 11 vehicles and the carport structure. The blaze also caused damage to 18 other vehicles, three nearby condo buildings, and one of the responding fire apparatuses.
While the fire was ongoing, Williston Police officers conducted a traffic stop of a suspicious vehicle with two occupants who were reportedly identified as Lee and Plantier. It's said that the officers observed items in the vehicle that were believed to have been stolen. Police seized the vehicle to apply for a search warrant but needed to release the occupants at that time.
Upon obtaining a search warrant, Williston and Essex officers were reportedly able to confirm that the property had been stolen from vehicles the same night of the fire, some being from vehicles near the scene of the fire.
Further investigation then led authorities to determine that Lee, Plantier, Martell, and Morrill had all allegedly been involved with thefts from vehicles in Essex, Colchester, Williston, and South Burlington the night of the fire. While interviewing the individuals, it's said that Lee included an admission statement which told how he had used hand sanitizer he found inside the originally-ignited vehicle to start the fire on the passenger seat. The four then reportedly fled the scene, and Martell and Morrill were dropped off before Lee and Plantier were stopped by Williston Police.
Lee and Plantier are believed to have then traveled to South Carolina the day after the fire before returning to Vermont last week. Lee then allegedly threatened Morrill on Dec. 4 for cooperating with police, and he was taken into custody by Colchester Police later that day.
EPD thanked the Williston Police Department and the Vermont State Police Fire Investigations Unit for their assistance in bringing the case to a successful resolution.