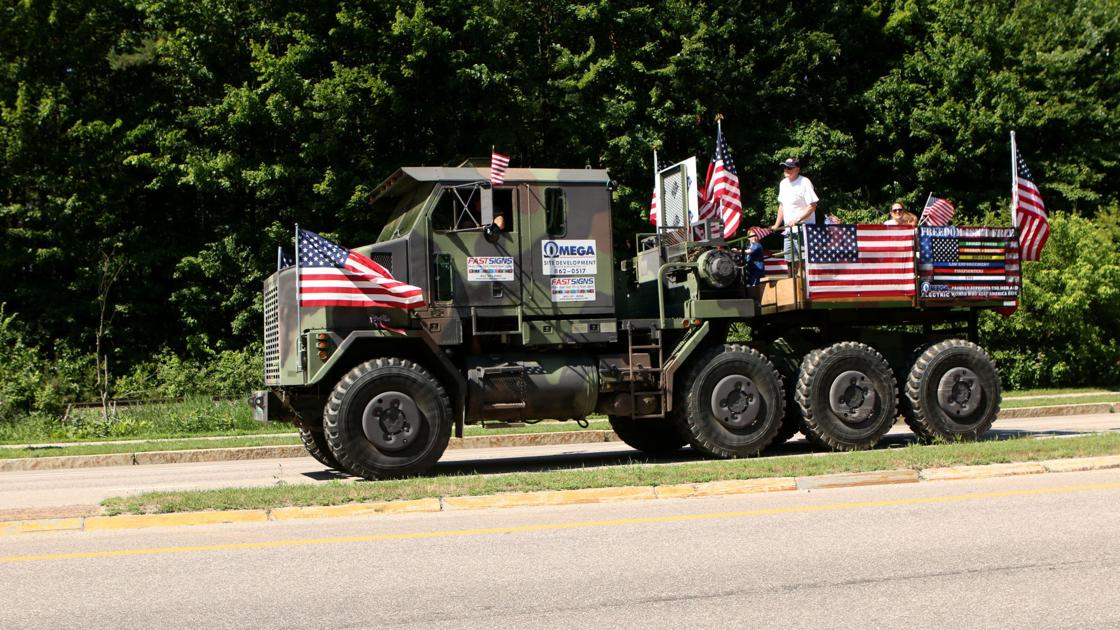 ESSEX — Neighbors from the next street over and the next town over came together Saturday to celebrate the Fourth of July and help a pair of non-profit organizations.
One of those is a Colchester-based effort to support military veterans as they return from deployment.
The Josh Pallotta Fund was one of the beneficiaries of Saturday's publicly-facilitated Fourth of July event in Essex Junction. The day included a parade through the village and culminated with a celebration at the Heart n Soul by MARK BBQ restaurant — a portion of the proceeds of admission, food, and beverages being split between the fund and the Aunt Dot's Place food shelf in Essex.
Early estimates point to around $500 being raised for each organization. Darrell Langworthy, an Essex resident, military veteran, and owner of the two barbeque eateries on Park Street, also chipped in some of his own money for the causes.
Prior to taking off from the parking lot on Park Street, Langworthy took the microphone and spoke to those ready to ride. He also took out of his pocket a pair of checks — one for Aunt Dot's and another for the Josh Pallotta Fund.
With a tear in his eye, Langworthy introduced Valerie Pallotta, the mother of a Vermont National Guard veteran and a founding member of the Josh Pallotta Fund. Langworthy explained how he had planned on raising $2,000 for the organization through one of MARK BBQ's recent Mission Sundays — but that the goal wasn't quite reached through sales alone.
"Whatever we made for profit that day went to the select charity, and I have this thing where, if we fall short, I make up for the difference… We fell quite a bit short of that [$2,000 goal]; the turnout was just a bad Sunday… So I have something for you from that day. It's not much, but I promised you $2,000 that day, and we're going to do it," said Langworthy as he took a second check out of his wallet and handed it to Valerie.
Upon taking the microphone, Valerie then quoted part of Lee Greenwood's "God Bless the USA" before telling the story of the Josh Pallotta Fund — a story which started with a seven-year-old boy who wrote a note saying he wanted to one day be a soldier.
Josh, a 2007 graduate of Colchester High, would later join the Vermont National Guard with full knowledge that he would be deployed to Afghanistan, and he then went overseas in 2009. Upon returning, he struggled with post traumatic stress — some of that stemming from losing two members of his unit: Sgt. Tristan Southworth and Sgt. Steven Deluzio. Josh later took his own life on Sept. 23, 2014.
"He just never came home," said Valerie. "And he's not the only one. 22 veterans end their life every day in our country, and we need to do better than that. We're much better than that."
Valerie went on to tell how she and her husband, Greg, then reached out to Josh's service member friends and asked what they needed — and what Josh might have needed to help him. They replied by saying they would really just like a place to reconnect and socialize with one another. The non-profit organization was founded in 2016 and has since worked to raise funds to secure property in which the Pallotta's could set up a wellness recreation center in memory and dedication to their son.
This past November, the fund was finally able to find a space in Fort Ethan Allen on the Colchester side of the border, in Josh's hometown, right where the former VA Clinic used to be.
"Which, I think, is kind of ironic," said Valerie.
Conversations with Josh's veteran friends then helped his parents find the right name for the facility.
"One of them who was deployed with him said, 'Let's call it Josh's House, because when people ask me where I'm going, I want to say, 'I'm going over to Josh's house,''" Valerie recounted.
The plans for Josh's House VT are to have it include chiropractic, aromatherapy, massage, meditation, reflexology, yoga, and more. It will also have a veteran-designed recreation area with a pool table donated by the Essex VFW, game rooms, a gym, meeting and study spaces, and a commercial-sized kitchen. Renovations have begun, but permitting issues have slowed down the process. Still, Valerie is optimistic about its future and is appreciative of all the support the fund has received.
"So many people have donated," she said. "Thanks to Darrell and people like you, who just want to give back to the community, we've been able to do this. It's people who donate on Facebook — doing a birthday fundraiser… Each person has donated $25 or $10, and that little amount is huge because it gets us to where we need to be to support our veterans who have felt left behind. So I'll end that with. If you're struggling to talk to somebody, and if you're struggling and you feel like nobody will care and that it'll be easier for your family members and loved ones if you weren't here, I can tell you that that is 100 percent not true."
Langworthy then went on to deliver a passionate, patriotic speech which included quotes from the Declaration of Independence, Abraham Lincoln, Franklin D. Roosevelt, Martin Luther King, and George W. Bush.
"I thank each and every one of you for coming out here today. Let's remember how important this day is," Langworthy concluded before giving the mic back to Valerie.
The emcee then kicked off the parade, exclaiming, "Start your engines!"
The procession included a variety of pickups, classic and contemporary muscle cars, motorcycles, Jeeps, and a few military trucks. It wound around about 8.5 miles of Essex Junction — people being able to watch from their sidewalks or a few of the shopping plazas and other parking lots along the route.
To learn more about the fund or to donate, visit joshpallottafund.org/.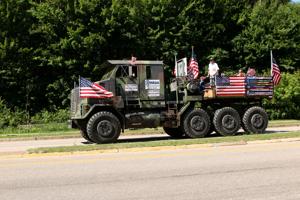 Colchester Sun