COLCHESTER — Kelly McCagg, director of Colchester's Burnham Memorial Library, sat at a table piled high with banned books. The open window nearby caused that unique library book smell to mingle with the scent of damp, fall leaves.
It's been more than six months since the library closed its doors to patrons, and, like many other working parents, McCagg is tired.
"I would work here all day filling curbside orders and answering the phone, go pick up my son and then work for several more hours at home," she said.
Due to the furlough of six library employees, McCagg and Hannah Peacock, Burnham's assistant director and youth services librarian, were a two-person team for much of the spring and summer.
But help is on the way. Four of the library's furloughed staff members are now back to work, which means McCagg can return to her more administrative duties and the projects she's passionate about, like this week's curbside banned books table, which was curated by McCagg and spotlights current and historical attempts to censor books in libraries and in schools.
An increase in Burnham's staffing levels also means Colchester residents will soon see an increase in library services.
In the coming weeks, curbside lending will be upped to three days a week. Currently, it is available on Saturdays from 10 a.m. to 12 p.m. and Tuesdays from 1 p.m. to 4 p.m.
"Offering curbside three days a week should make things a little easier for us, since the lending will be spread out over three days instead of two," McCagg said.
When curbside service first launched in mid-May, 83 patrons stopped by to retrieve a total of 245 items.
In addition to the expansion of curbside lending, some in-person youth programming, like storytime, will be returning to the Meeting House.
"We'll have markings that tell kids where to sit and enforce plenty of hand-washing," she said.
McCagg knows that hybrid and remote learning have altered families' normal schedules, and so she plans to continue offering recorded programming online that children can watch and participate in on their own time.
While many community members might be itching to wander again through the stacks, in-person browsing is still a ways off.
Even though more staff is returning, the library does not yet have the capacity to clean and organize the way it would need to.
"I don't want to use our staff's time for cleaning," McCagg said. "I'd rather use their time and talents to get valuable information out to the community."
This winter, she will miss the people who sit in front of the library's fireplace and read the newspaper for hours.
"I love that we are that place for people, but unfortunately, we won't be that place again for a while," she said.
Even though Colchester residents haven't been doing any reading in the library itself, they've been doing plenty at home. Since the pandemic began, use of Burnham's digital collection has increased by 50 percent.
For the first time ever, the digital collection circulated over 1,100 items in June — 543 e-books and 602 audiobooks.
"I walk a lot of people through how to use our digital library," McCagg said. "I once spent about 50 minutes on the phone with an 80-year-old woman, who said she probably wasn't going to remember anything I told her. I said she could call back anytime and I'd be happy to explain it again."
It was that sort of natural kindness and care for others, that made it extremely difficult for McCagg in May to tell the majority of her staff that they would be furloughed.
"Having to furlough staff was the hardest thing," McCagg said. "I understood and agreed with the reasoning, but it was something I never had to do before, and that made it very challenging."
Though it's been difficult to figure out how the returning employees can work safely in their shared office space, McCagg is very excited to have them back.
She is also happy to once-again have newly-released books available for borrowing. Due to a purchase freeze earlier this year, Burnham had not been able to acquire new books. Now, its collection is becoming more up to date, and a cart of new purchases is available for browsing during curbside pickup.
Even though some area area libraries have opened more quickly than Burnham, McCagg thinks Colchester is on the right path.
"I think its better to air on the side of caution," she said. "I've been keeping up with what other libraries are doing and taking note of their successes and learning from their issues."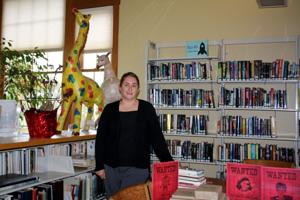 Colchester Sun