MILTON — Local law enforcement agencies teamed up for some community outreach Thursday to talk about a child safety issue which will soon be affecting streets throughout the state.
For the second-straight year, the Red Lights Flashing = No Passing BBQ was held with the aim to bring awareness to the dangers of passing school buses when their red lights are illuminated.
Members of the Chittenden and Franklin counties' sheriff's offices' Safe Highway Accident Reduction Program (SHARP) and the Milton Police Department gathered at Minor's Funeral Home for two hours during lunch time to talk with the public while serving up free barbecue and snacks.
Despite the pandemic, officers say they saw about the same turnout as last year with 75-80 people stopping by to grab a bite and discuss the fact that school buses will soon be on the roads and could potentially be turning on their red lights at unordinary times due to schools having adjusted starts and dismissals this year.
"The barbecue went over very well," said Lt. Allen A. Fortin of the Chittenden County Sheriff's Office. "It was nice to be able to talk to people about a very important issue like this over a hot dog or hamburger. It's the end of summer, and you will start to see the school buses out again. With all the COVID-19 stuff going on and schools making hard decisions about what to do, you might see a school bus at times that are not normal depending on routes."
Fortin said about 66 burgers and five pounds of hot dogs were handed out in addition to chips and water.
"We got a lot of positive feedback, horn honks, waves, etc.," said Sgt. Paul Locke of the Milton Police Department. "[It was a] great opportunity to bring awareness to bus red light passing."
A Monday press release sent out by Fortin's office read, "Our preference would be for everyone to follow the law and create a safe [environment] for our children. Unfortunately, there are those who will ignore the flashing red lights, and that is why deputies and officers will be patrolling and watching school buses as they drive their routes."
It went on to say that the fine for passing a school bus when the red lights are flashing is $249 and a 5-point violation. The statement also said that the Mountain Transit Inc. bus company, based in Milton, reported having approximately 220 vehicles pass its school buses when the red lights were activated last year.
"It is alarming that this many people would put our children in harm's way to save a few seconds on their trip, which is why it is so important to get this message out," Fortin's message added.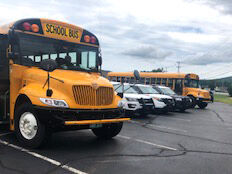 Colchester Sun