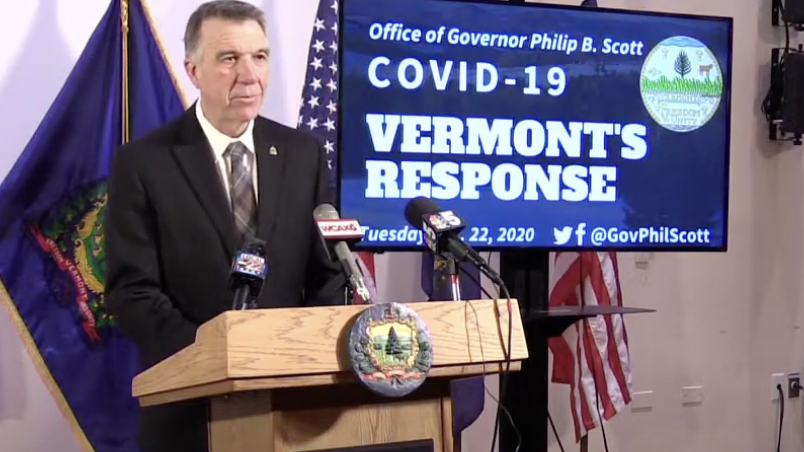 MONTPELIER — Gov. Phil Scott announced a temporary relaxing of gathering restrictions for the holiday season during a press conference in the capital Tuesday.
Scott said current gathering restrictions will be reinstated on Jan. 2 so that the state can evaluate case data in the ensuing weeks.
"I'm grateful for the work Vermonters have done to level out our cases and start to see a decrease," Scott said. "It's important to remember these gains we've made are fragile."
Rep. Peter Welch (D-Vt.) was also in attendance to tout the benefits of the recently passed $900 billion coronavirus aid package passed by the House and Senate this week.
Here are some key takeaways from the governor's press conference:
How should people handle the holiday season?
Scott and health officials urged people to exercise caution as Christmas and New Years approach. According to Vermont Financial Regulation Commissioner Michael Pieciak, more people visited the state in the week between Christmas and New Years than any other time of year in 2019.
"While fresh snow has landed in Vermont and across the region … it's all the more important for us in Vermont and our guests and visitors to be mindful of the guidance and follow it completely," Pieciak said.
Vermont Health Commissioner Mark Levine said the safest thing Vermonters can do for the holidays is celebrate at home with those in their own household. Levine also suggested keeping gatherings as small as possible, and encouraged that people wear masks and social distance indoors, utilizing outdoor space as much as possible.
Levine also said the state's two-week quarantine rule for out-of-state visitors is still in effect, with a 7-day quarantine allowed pending a negative test result and no symptoms. Levine urged those who do decide to gather for the holidays to follow state safety guidelines.
"If we do spend a little time with just one other person or family — safely — I hope it will give us the mental and emotional boost we need right now," Levine said.
Where is coronavirus aid money going?
As part of the coronavirus aid package, $300 in weekly additional unemployment assistance will be available for 10 weeks, down from the $600 available under the original CARES act passed earlier this year. Additionally, individuals making less than $75,000 per year or couples making below $150,000 per year will be eligible for a $600 direct stimulus payment.
Welch said the $284 billion going toward continuation of the Paycheck Protection Program for small businesses such as restaurants would be crucial to how the state — and the nation — bounces back once a majority of the population has been vaccinated.
"This is going to continue to be very important for all of our small businesses, particularly our restaurants," Welch said. "We have to help them make it to the other side" of the pandemic.
In addition, $7 billion will go toward improving broadband services and access, an issue that took on particular importance when stay-at-home orders were implemented in the spring.
"Now you can't go to school without broadband, you can't have telehealth without broadband, and you can't go to work without broadband," Welch said.
A further $54 billion and $22 billion will go toward helping K-12 public schools and private and nonprofit colleges, respectively. Welch said the funding is meant to offset the costs incurred by schools to make their facilities compliant as they work to reopen full time.
In addition, $25 billion is slated for rental assistance, which in concert with an 11-month extension on the eviction moratorium, is aimed at easing strain for renters. Welch also said there will be a 15% increase in federal supplemental nutritional assistance program funding, distributed in Vermont as 3SquaresVT.
Who gets the vaccine next?
Levine said the national Advisory Committee on Immunization Practices released new guidance this week regarding the next phase of vaccine rollout. The recommendation from the national committee is that people age 75 older and frontline workers, such as essential workers, teachers, food service workers and others, be the next cohort to be vaccinated.
Levine said the state-level advisory committee will be gathering Wednesday to discuss the recommendations and come up with a plan for the next stage of vaccine rollout in Vermont. He anticipates that plan will be unrolled sometime this week.
While he couldn't speak for the committee, Levine said he anticipates Vermont's rollout will be "close or a variation" of the national recommendation.
What are the latest case numbers?
Levine reported there had been 63 new cases and one death over the course of Monday, with 36 patients currently hospitalized and nine of those in intensive care. He said the state is currently tracking 41 outbreaks, 19 of which are in longterm care facilities.
As the disease has surged nationally, Vermont's positivity rate remains low, at under 2%, health officials said. Pieciak said in the 521 counties in the northeast travel region, eight of the 10 counties with the lowest case counts are in Vermont. However, Pieciak said cases are expected to rise in the next four weeks, and urged that Vermonters remain safe and cautious.