COLCHESTER — Julia Correll is an incoming senior at Colchester High School, a Colchester Rescue volunteer and a tennis player.
But come September, she'll have a new title to add to the list: student member to the Colchester school board.
Correll was selected by the board and other administrators after she applied for the position earlier this summer.
"I thought it would be a cool opportunity to learn about the administrative side of school," she said.
The Colchester school board has selected a new student to join its ranks every year for more than a decade. Correll will be the 17th student representative. Last year, Robbie Davis served as the student member.
Correll sees her herself acting as a bridge between the school board and the student body. Given this year's unique circumstances, she thinks it will be especially important for her to be able to report back to students on how decisions are being made.
"Students have already reached out to me with their concerns," she said.
One of those concerns is this year's new four-by-four schedule, which is leaving a lot of high school students with questions, Correll said. Students are now taking the same four classes everyday, and classes that used to be year-long are now only semester-length. Semester classes are now only quarters.
Many students want to know what the repercussions of this schedule will be for Advanced Placement exams and arts courses.
"There are a lot of people upset about music classes because for some, music is their life, and if they only get to do that for half the year, that's pretty crushing," she said.
Correll also knows that students are concerned about learning remotely three days a week. She struggled with staring at a computer screen for hours a day this past spring, and knows that like herself, many of her peers learn better in-person.
All of these concerns and questions will come with her when she attends her first meeting with the board in late September. Correll wonders how much input she can give and what influence she'll have, but she's sure those questions will be answered by Superintendent Amy Minor when they meet in the coming weeks.
An aspiring doctor, Correll splits her time between Colchester High School and Burlington Technical Center, where she is enrolled in the Health Sciences Academy.
"I really like emergency medicine and I want to be a doctor because I like to keep busy," she said. "I'd maybe like to be a missionary doctor, or to do something like Doctors Without Borders."
Since November 2019, Correll has been a volunteer with Colchester Rescue. This summer, she's been working one 12-hour shift every week. She enjoys the hands-on training she gets there, as well as the time she can spend observing others.
When school starts on Sept. 8, Correll is most looking forward to seeing all of her classmates and teachers again. She said all of her teachers in the district have been great, but she has especially enjoyed working with Benjamin Beaudoin, a history teacher at CHS.
"He's great about encouraging you as a person and as a student," she said.
Recently, Correll was asked by Minor to film a "welcome back" message to be shared with faculty and staff.
"I had a day to write it and make it into a speech," she said. "It was nice to be able to thank the teachers for what they do and share how they've impacted me. I'm glad I was able to provide some encouragement."
CHS Principal Heather Baron is thrilled to have Correll as a member of the school board.
"She is committed to bringing a variety of student ideas and perspectives to the Colchester School Board," Baron said. "She seeks to understand the larger systems that are in place and how schools and districts operate so she can influence the decisions that are made and impact students."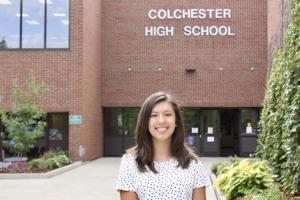 Colchester Sun