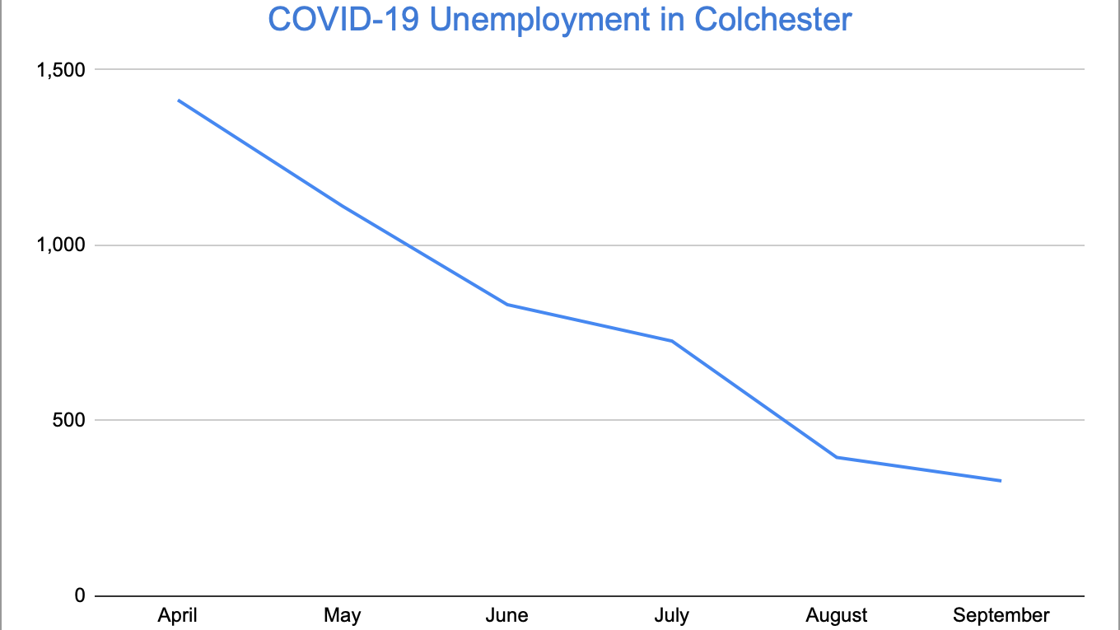 COLCHESTER — The number of people unemployed in Colchester has decreased significantly since the uptick earlier this year caused by the COVID-19 pandemic.
In September, 327 people, or 3.3 percent of the Colchester population was unemployed, compared to the 1,414, or 13.3 percent, in April.
Hover over the chart below to see unemployment numbers by month. Data is based on information from the Vermont Department of Labor, Economic and Labor Market Information, which was released Oct. 20.
The current 3.3% unemployment rate only represents people who are actively looking for a job, according to the U.S. Bureau of Labor Statistics. "Actively looking for work" includes contacting an employer directly or having a job interview, submitting resumes or filling out applications and placing or answering job advertisements.
Unemployment is decreasing similarly in Chittenden County as a whole.
Compared to other area towns with similar a population size, Colchester is on par. Essex's unemployment rate in September was also 3.3 percent and South Burlington's was 3.6 percent.
Town Manager Aaron Frank said he makes sure to check Colchester's unemployment numbers monthly, when they are updated by the state of Vermont.
"It's important for the town to keep unemployment numbers in mind when evaluating town services and planning the annual budget," he said.
Currently, Frank and other Colchester town employees are working on designing the next budget, which will be brought before the selectboard for approval in the coming weeks. Colchester residents' current job status and ability to pay taxes will be taken into account, Frank said.
Overall, tax collection this year has been very good, Frank said. In fact, despite the pandemic, the town has seen fewer delinquent, or unpaid, taxes this year than in those past. At the end of August, only $182,000 or 1.1 percent of total town taxes were unpaid.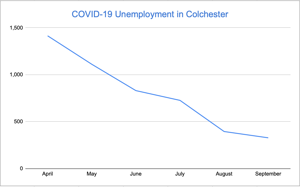 Colchester Sun