COLCHESTER — The Colchester selectboard approved a draft of the Town of Colchester Capital Budget Program for the fiscal years 2021 through 2026, Aug. 25.
The Five-Year Capital Budget Program (CBP) is a planning tool used by the Department of Public Works. It includes the budget for a list of capital projects to be undertaken over the next five years.
A capital project is defined as any physical betterment or improvement, including furnishings, machinery, apparatus or equipment. Land acquisition, as well as any preliminary studies or surveys are also considered capital projects.
Byran Osborne, director of public works, presented the CBP at the meeting. The board voted to approve the 30-page draft document.
Let's take a closer look at it, so you can see where your taxes are being spent:
Projects to be undertaken in fiscal year 2021:
The proposed FY21 Capital Budget includes 28 projects totaling $1,454,186 in spending. Approximately 22% of those funds are expected to come from state and federal grants, while local property taxes will fund the remaining amount.
Improvements to transportation and to parks make up the most of this budget, with less being spent on technology and equipment.
Fiscal year 2021 began July 1, so a few of these projects, including the reconstruction of the Causeway, improvement of the Blakely Road/Laker Lane intersection and roof replacement for the Burnham Memorial Library, have already been completed.
HIGHLIGHTS
One of the most expensive town-funded projects included on this list will be the renovation of the recreation path that connects Airport Park to the Causeway. This project is estimated to cost $150,000 and will be funded from the town's Parks Capital Plan which was authorized by voters in 2016. Any parks projects slated for FY23 or later will have to be reauthorized by voters.
Another expensive project is the plan to double the size of DPW's salt shed in preparation for winter. This is also a town-funded project and will cost approximately $115,000.
Less expensive projects in FY21 include a fresh coat of paint for the front of the police department, tree maintenance in all parks and updated communications systems for Colchester Rescue.
The town will also acquire two new patrol cars — $46,826 each — for the Colchester Police Department and a dump truck — $11,139 — for the Highway Department this year.
The redesign of the West Lakeshore Drive and Prim Road intersection, which is state-funded, is included on the FY21 list, though Osborne said the actual construction of the intersection will not take place until FY22.
Projects to be undertaken in fiscal years 2022-2026:
The FY22-FY26 Capital Program contains 97 projects totaling almost $10 million. Twenty-eight percent of these projects will be state or federally-funded.
HIGHLIGHTS
In FY22, or between July 1, 2021 and June 29, 2022, Colchester residents can expect two facility improvements – a refurbished entrance to the Burnham Memorial Library and a new roof for the Meeting House.
In addition, the town will spend $100,000 on a perimeter path for Airport Park in FY22.
In 2022, Colchester voters will approve projects in the Capital Transportation Program and the Capital Parks Plan. Some of these include:
Paving of the entirety of Bay Road for $179,456 in FY23

Paving of entirety of Severance Road for $246,702 in FY23

Parking area for Sunny Hollow Park for $60,000 in FY24

Conversion or elimination of the Bayside Park softball field for $150,000 in FY26
Looking ahead: Master plans for the planned Community Center in Hazelett Park should be unveiled in FY23 and the creation of a trail network in Village Park is planned for FY26.
Many other projects are listed as possible candidates for inclusion in the Capital Budget Program, should more funds become available and they are approved by voters. They are not currently slated to be tackled in any specific year.
A few of those projects include:
Reconstruction of Shore Acres subdivision roadways

Replacement of the Mill Pond Road Bridge

Purchase and replacement of the police boat

Building and facility efficiency projects (lighting, heating, air conditioning)
The Colchester selectboard will hold a public hearing on the Capital Budget Program Oct. 27. Information regarding how to participate in the meeting will be shared soon. The selectboard may decide to officially adopt the plan after the hearing.
Read the entire CBP document here.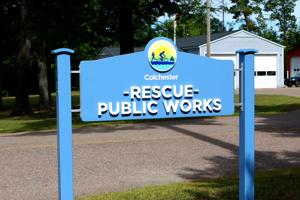 Colchester Sun