MONTPELIER – Gov. Phil Scott has extended his state of emergency another month, stating the emergency order would be needed to continue managing the state's response to COVID-19.
Since March, a state of emergency has been in place and subsequently extended as Vermont wrestles with its initial economic shutdown in response to COVID-19 and eventual reopening with mandated public health guidelines in place.
On Friday, Scott said the orders would be extended again – this time to Sept. 15 – in order to help continue governing the state's management of COVID-19, an easily spread respiratory disease that, in some cases, can cause fatal illnesses.
"This is a vehicle that allows us to manage and continue to suppress this virus," Scott said during one of his administration's regular Friday news conferences.
Friday's extension came with added language allowing for local governments to limit crowd sizes and possibly implement a curfew, an order Scott said stemmed from a summer surge of COVID-19 linked, in part, to social gatherings and parties.
Friday also saw updates from state officials announcing the end of the state's first significant community outbreak of the virus and conversation around an expected spike in COVID-19 the state predicted would follow a testing regimen mandated for reopening colleges.
The amount of counties from where travelers could enter Vermont without triggering quarantine requirements has also grown this week as cases nationally begin to plateau after a national surge in COVID-19 creeped northeast toward states on Vermont's borders.
Here are a few takeaways from Friday's updates:
Gov. Phil Scott extended Vermont's emergency declaration until September, with local curfews and crowd limits now possible.
Scott said he extended his order until the middle of September in order to continue managing Vermont's response to COVID-19, adding language that could give local municipalities a greater say in limiting gathering sizes and installing curfews on bars and clubs.
Under Scott's emergency orders, municipalities would be given the option to enforce stricter limits on gathering sizes and limit the hours of sale for alcohol, measures that, in effect, would allow local governments to control parties and enforce a curfew on bars and clubs.
Those steps, he said, were taken in light of the role parties and social gatherings had appeared to play in other states' respective outbreaks of COVID-19.
"It appears uncontrolled parties and bars and crowded club are a part of the problem," Scott said. "I believe giving our towns, especially the college towns, some additional mitigation measures to work with, is the right thing to do."
Those limitations were especially significant in light of college students' return to Vermont's different campuses, with Burlington – the center of Vermont's only metropolitan area and home to several colleges – in particular signaled out by the governor.
"I don't believe it's a problem in Island Pond up in the Northeast Kingdom, or in Enosburgh or down in the southern part of the state," Scott said. "It really is about those saturated areas like Burlington."
State officials are expecting reported cases of COVID-19 to grow in the coming weeks as college students return and undergo required testing for the disease.
Vermont's Commissioner of Health, Dr. Mark Levine, said Friday the state had worked closely with colleges to guide the latter's fall reopening and the expected return of college students from around the country.
Because of state guidelines making a test for COVID-19 a requirement for students' return to Vermont, Levine said it was likely the state would see more positive tests for COVID-19 in the coming weeks amid students returning to school.
"These positive tests mean the system is working," Levine told reporters Friday. "We want to find these so we know who needs to stay inside and away from other people so we can prevent the virus from spreading further."
According to Levine, a student testing positive for COVID-19 upon their return to school wouldn't lead to campus-wide testing the way a positive test might have in other facilities in Vermont.
Instead, Levine said, a positive test would be followed by contact tracing, where those testing positive for COVID-19 are interviewed about recent close contacts and where those contacts are later connected to Vermont's health department for quarantine guidelines and other follow-up conversations.
"Keep in mind it's the act of quarantining, and not the testing, that is preventive here," Levine said.
In the last two weeks, according to Levine, a little more than 2 percent of those reached through the state's contact tracing network had ultimately tested positive for COVID-19.
Local and state officials have declared an end to an outbreak of COVID-19 in Winooski, Vermont's first community spread of COVID-19.
Heralding the outbreak's end as a victory Friday, Levine said the state had officially declared an outbreak of COVID-19 starting in Winooski over.
As of Wednesday, according to Levine, 28 days had passed since a case of COVID-19 had been connected to the Winooski-centered outbreak of COVID-19, meaning two incubation periods for COVID-19 – the time experts agree it takes for symptoms to develop – had passed without any additional cases.
Declared by Levine as the state's "first and largest outbreak and community spread of the virus," the outbreak in Winooski had spread to Burlington and other neighboring Chittenden County communities before being contained by state officials.
"One-hundred-seventeen of our neighbors, friends and family members tested positive and were actually sick," Levine said, "and several were hospitalized."
Levine also warned further outbreaks could likely be expected as the novel coronavirus causing COVID-19 continues to exist in Vermont and public life continues amid the disease's ongoing spread.
"I'm really pleased to report this, but at the same time, we know the pandemic is far from over," Levine said.
As cases appear to begin plateauing nationally, conditions improved enough in several northeastern U.S. counties to allow for unquarantined travel to Vermont.
According to Vermont's financial regulation commissioner Michael Pieciak, roughly 700,000 additional people would be allowed into Vermont without triggering quarantine requirements as COVID-19's spread in their communities fell below Vermont's metrics for travel restrictions.
The somewhat positive news comes as Vermont continues to see its trends for measuring COVID-19's spread in the Green Mountain State remain well below the state's benchmarks for defining an uncontrolled spread of the disease.
"We continue to see very steady trends in our own numbers," Pieciak said. "Vermont continues to hold the distinction of having the lowest total case count in the U.S. and now, this week, we have the lowest case count on a per capita basis as well."
"The rest of our restart metrics… don't present a current risk at the moment," the financial regulation commissioner, whose department has managed Vermont's modeling for COVID-19 since the pandemic's start in March, added.
Nationally, according to Pieciak, new cases of COVID-19 reported daily appeared to be plateauing, as Department of Financial Regulation-shared data from the John Hopkins University showed the number of new cases slowly falling in the southern U.S. and plateauing in most other regions.
Still, according to Pieciak, this past week saw the most recorded deaths in a single day due to COVID-19 reported nationally since May and also saw the U.S. crest the "grim milestone" of 5 million cases of COVID-19 having been discovered since the pandemic's start.
Since March, nearly 1,500 people have tested positive for COVID-19 in Vermont. Fifty-eight deaths have been attributed to complications from the disease.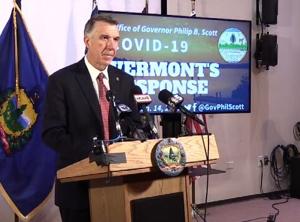 Colchester Sun