BURLINGTON, Vt. – As Vermont's health department reports the highest single-day increase in COVID-19 cases in months, officials are urging Vermonters to avoid large gatherings and events outside typical social circles.
According to a statement from the Dept. of Health, 43 new cases of COVID-19 were reported in Vermont on Sunday – the highest single-day increase reported since the pandemic's first surge in spring.
The state also reported its first death related to COVID-19 since July on Sunday, bringing Vermont's overall total of COVID-19-involved deaths to 59 since the novel coronavirus causing COVID-19 was first observed in Vermont in March.
"Vermont is experiencing a steady increase in cases," the health department said in a statement Sunday, "and the health department is investigating more outbreaks and situations than at any time since the pandemic started."
In light of the growing number of COVID-19 cases in Vermont, state officials – including Gov. Phil Scott – are asking Vermonters to avoid gatherings outside of Vermonters' typical social circles and limit those gatherings to 10 people or less.
According to the health department, many of the new cases and outbreaks reported in recent weeks have been linked, through contact tracing, back to social gatherings "where masking and physical distancing break down."
Health officials are also urging Vermonters who have attended any gatherings or events recently to avoid close contact with others and consider testing for COVID-19 in the coming days.
"If you have attended an event with people who are not in your usual social circle, please avoid close contact with others and consider obtaining a test now as well as seven days after the event or gathering," the health department said in their statement.
Sunday's update comes after COVID-19 appears to be surging through much of the U.S. at large.
On Sunday, more than 100,000 new cases of COVID-19 were identified in the U.S. as a whole, fewer than the record-breaking 132,000 new cases reported on Friday but far above the number of new cases reported daily throughout the summer.
As of Monday morning, more than 2,400 people had tested positive for the virus causing COVID-19 in Vermont since the pandemic's beginning in March.
Vermont's health department is directing those interested in acquiring a test for COVID-19 to their website at healthvermont.gov/covid-19/testing. Those with COVID-19's flu-like symptoms are asked to reach out to their primary care providers for a test.
For everyone else, the health department asks that people remain committed to public health guidelines intended to mitigate the disease's spread.
"The health department emphasizes that people cannot know for sure whether someone they are with or near has been infected, especially those who are pre-symptomatic," a health department statement read. "This is why you should wear a mask, keep your distance and avoid crowds."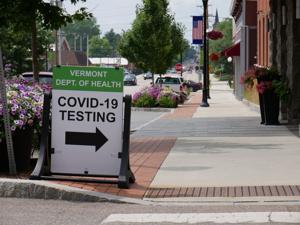 Colchester Sun