MONTPELIER – Gov. Phil Scott announced Wednesday he would allow a bill allowing for the taxing and sale of marijuana to pass into law without his signature.
In a letter to Vermont's legislature, Scott said lawmakers had made "substantial progress" in addressing the governor's long-standing reservations around the legalization of marijuana sales – namely around road safety, prevention and municipal authority.
"However," Scott wrote in his letter, "there is still more work to be done to ensure the health and safety of our kids and the safety of our roadways."
Under S.54, recreational marijuana sales will be legal in Vermont starting with previously licensed medical dispensaries in spring of 2022 and allowing newly licensed sellers to open shops later that year.
The law also comes with stipulations allowing for court-ordered saliva tests and police trainings for detecting impairment from drivers, and requires towns and cities to individually agree to allowing legal marijuana sales before a dispensary can legally operate there.
Funds earned through a 20 percent tax on marijuana sales will be partially directed toward substance abuse programs, afterschool programming and youth prevention programs as well.
Scott likewise announced on Wednesday he had signed legislation automatically expunging low-level marijuana convictions and legally doubling the amount of marijuana an individual can possess before potentially facing criminal charges in Vermont.
The governor's tacit approval of S.54 came with some caveats, however.
Scott said the bill still fell short of addressing the needs of the marginalized communities most impacted by criminalized marijuana, with focus trained on licensing rules giving existing dispensaries a "head start" and creating an "inequitable playing field" for smaller, minority-owned business.
"Despite testimony and proposed legislation presented to the committees of jurisdiction early in the session," Scott wrote, "the concerns with this bill of the communities historically most negatively affected by cannabis enforcement were not meaningfully incorporated into this bill."
His statement echoed those made by several other social and racial justice organizations who argued S.54 inadequately addressed fears that minority communities wouldn't have a fair chance in a new market despite being the most negatively affected by marijuana's criminalization.
According to the American Civil Liberties Union, Black Americans were almost four times more likely to be arrested for marijuana possession than white Americans despite both groups using marijuana at roughly an equal rate.
The unequal rate at which Black Americans have been arrested for marijuana possession has been connected to larger racial disparities in the criminal justice system, including disproportionate representation in American – and Vermont – prisons.
Other advocates have expressed issues with the legalization of marijuana for public health reasons.
Scott, in his letter, encouraged the legislature to consider applicant criteria around social equity, 50 percent applicant fee waivers for members of marginalized communities and other forms of financial and technical support.
"Justice should be foundational to our work," Scott wrote, "not an add-on to be figured out secondary to commercial or other interests."
Scott also took issue with the legalization of cannabis vaping products and asked for restrictions to be placed on advertising for marijuana products that could appeal to children, as well as additional funding for police trainings around roadside detection.
The passage of S.54 also spurred celebration from some advocacy organizations this week, including the Vermont Coalition to Regulate Marijuana, who wrote in a Thursday blogpost the governor's decision represented "a huge step forward for cannabis policy here in Vermont."
"Although much work remains before Vermont can establish a responsible, equitable market for cannabis, the governor's decision represents a huge step forward for the state," the coalition said.
With S.54 considered law, Vermont has become the 11th state in the U.S. to legalize the recreational sale of marijuana.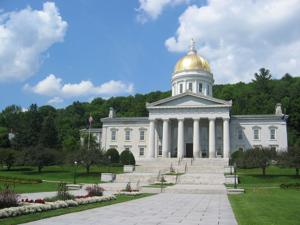 Colchester Sun