MONTPELIER – A series of updates offered by Scott administration officials Tuesday saw officials touch on planned "child care hubs," reporting on COVID-19 for reopened schools and an outbreak of COVID-19 linked to a private party in Killington.
State health officials also responded to a recent Centers for Disease Control and Prevention study finding most of those who died of COVID-19 had another underlying condition, findings that have led some to downplay – incorrectly, according to public health experts – the severity of COVID-19.
Here's what you need to know:
Child care hubs
According to Vermont's Secretary of Human Services Mike Smith, plans for establishing "child care hubs" to help offset an expected surge in demand for child care services have been met with an "overwhelmingly positive" public response.
Already, 12 child care hubs had been approved by the state, creating 2,300 slots capable of serving 4,600 children as students cycle between alternating in-person school days as a part of most schools' partial reopenings to in-person learning.
Another 20 applications were pending with expected approval by Friday, Smith said, and a further 40 sites were being reviewed as possible hosts for the state's planned network of child care hubs.
As of Tuesday, three hub sites had been approved in both Chittenden and Addison counties, respectively, and Franklin, Lamoille, Rutland, Washington, Windham and Windsor counties each had a single site approved.
While the reported timeline meant the state might fall short of its goal of having 7,000 new slots for child care available by the first day of school, Smith heralded the program's early successes made in a "remarkably short time."
"I want to be realistic here," he added with a warning, "it may be that some sites come online after September 8, but right now we're focused on building out the system as much as we can and working diligently to do that."
Each hub, expected to service students on their remote learning days, would have Internet services available so students would be able to manage working on schoolwork remotely.
Reporting on COVID-19 activity in schools
According to Vermont's education secretary Dan French, the state planned to report the number of teachers and students with COVID-19 as a single, combined number during outbreaks in order to avoid accidentally identifying student or staff testing positive for the disease and running afoul of privacy laws.
Those reporting standards would be uniform through Vermont's public school system, French said.
"We believe a consistent approach with using this data at the state level will help schools with communicating with their families and communities and would replace the need for districts to do this on their own," he said.
For schools with fewer than 25 students and staff, the state would avoid reporting the number of cases of COVID-19 outright in order to guarantee students' privacy, French said.
Those restrictions would apply to "about 15 schools," he said.
Schools are scheduled to reopen on Sept. 8. Most schools in Vermont have opted to reopen with a blend of in-person and remote learning in order to mitigate students' possible exposure to COVID-19.
Outbreak of COVID-19 now linked to Killington
On Monday, Vermont's health department announced that an outbreak of COVID-19 had been linked to a private party in Killington's Summit Lodge.
As of Tuesday afternoon, 14 cases of COVID-19 had been linked to the party.
Several of those cases were found among attendees' close contacts, meaning, according to health officials, the disease was now spreading outside of the party.
Vermont's health commissioner, Dr. Mark Levine, warned that, while people might be worried about news of another outbreak of COVID-19, the health department had begun contact tracing and was working to confine the outbreak.
"I understand this news could be yet another worry for people in the community, but as I said before… this is what we do," Levine said. "Our experts here at the health department are working nearly around the clock on this."
According to Levine, the Summit Lodge had complied with the state's public health guidelines for gatherings and had been compliant with the health department's subsequent investigation and contact tracing.
About 40 people in total had been at the party, according to Levine, including several people from outside of Vermont.
Officials condemn downplaying of COVID-19
Health officials in Vermont have condemned interpretations of a recent Centers for Disease Control and Prevention (CDC) report that used the report to downplay the severity of the COVID-19 pandemic.
In a report issued last week, the CDC found only 6 percent of death certificates citing COVID-19 as a cause of death listed the disease alone. The other 94 percent of death certificates citing COVID-19 cited another underlying condition.
Following the CDC's reporting, some commentators have taken to social media and cited the report as evidence that the severity of COVID-19 had been overstated by health experts, an interpretation Levine argued misrepresented the CDC's report.
"I'm very concerned about how armchair epidemiologist and armchair physicians are reporting their take on this," Levine said.
According to Levine, those listed with other underlying conditions – or "comorbidities" – would likely still be alive had they not fallen ill with COVID-19, a respiratory disease capable of resulting in severe and sometimes fatal illness.
"Many of these people would not have died this year if COVID was not here this year," Levine said. "They've had this burden of disease that they've lived with for sometimes months, sometimes years and sometimes decades.
"COVID tipped them over," he continued. "It was overwhelming and their system couldn't handle it."
Since the opening moments of the COVID-19 pandemic, health experts worldwide have said COVID-19 would have the most severe impact on the elderly and on those with chronic illness.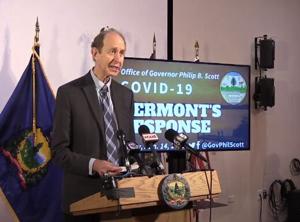 Colchester Sun