MONTPELIER – An outbreak of COVID-19 in Central Vermont has widened to 18 people and the first in-school transmission of the disease was reported, health officials said during a news conference Friday.
Officials also detailed a new program offering free classes through the Vermont State Colleges system to those impacted economically by the pandemic and offered suggestions for safe Trick-or-Treating for the coming Halloween.
Here are five key takeaways from the Scott administration's Friday conference.
1. An outbreak of COVID-19 tied to hockey leagues played at a Montpelier ice rink has grown to include 18 known cases of COVID-19.
State officials initially reported a cluster of COVID-19 connected to the Central Vermont Memorial Civic Center in Montpelier earlier this week, connecting those cases to youth and adult hockey leagues played at the ice rink.
On Friday, the state's epidemiologist Dr. Patsy Kelso reported there being "no indication of community spread" related to the outbreak, but announced a pop-up testing site would be opened in Barre for close contacts to those affected by the civic center outbreak.
Cases of COVID-19 linked to the Central Vermont Memorial Civic Center have been confined to hockey players and their close contacts, and, according to Kelso, most of those infected were adults.
Gov. Phil Scott, speaking during Friday's press conference, assured the outbreak would be contained, telling reporters "our contact tracing team is on top of this and will contain it – just as they have every other outbreak."
2. Vermont has reported its first in-school transmission of COVID-19 at an elementary school in Montpelier.
According to Kelso, the first in-school transmission of COVID-19 has been reported in Montpelier's Union Elementary School.
While schools in Vermont have had positive cases reported since reopening last month, the cases detected in Union Elementary School were the first reported where COVID-19 had spread between two people within a school.
State public health officials warned Friday against interpreting the state's first known cases of transmission within a school as any sign of a worsening pandemic.
"The fact that this is the state's first in-school transmission doesn't mean an escalation of the virus," Kelso said. "It means someone who was infectious transmitted it to someone, just this time in a school rather than in a workplace or long-term care facility or other setting."
Vermont's health department reported Friday there having been six known cases of COVID-19 in Vermont schools in total, though several additional schools have reported cases of COVID-19 since the health department last published updated figures.
Most school districts continue to use a "hybrid model" flor reopening that blends in-person learning with remote learning, according to Vermont's Agency of Education, with in-person learning noticeably more common among schools with younger students.
3. Officials revealed a new program approved by Vermont's legislature offering free college courses for Vermonters whose economic situation had been impacted by the pandemic.
Funded through a $2.3 million allocation from the CARES Act, a new program would allow Vermonters who have been laid off or otherwise economically affected by COVID-19 and associated public health orders to take classes through the Vermont State College system.
According to the Community College of Vermont's president Joyce Judy, courses largely aligned with "high-demand careers" like health care, child care, business and manufacturing.
Most courses could be managed remotely and would be made available from any of the state college system's four schools.
"If you or someone in your household has been laid off, furloughed, had their hours cut or you've been employed in an industry that has been impacted by the pandemic, you are eligible for these free classes and training," Judy said.
Scott celebrated the program earlier in his address Friday.
"This will be a win-win for our workers and our employers," Scott said, "and it's one of the ways our economy more resilient in the future."
More information can be found online at www.vsc.edu/vermontworkers.
4. The amount of new cases of COVID-19 reported each day is has climbed somewhat – a trend state officials said they expected as cold weather brings people indoors, where COVID-19 is more easily spread.
According to reporting from Vermont's health department, the number of positive COVID-19 cases reported each day has grown to regularly being greater than 10, a trend officials said was "a bit concerning" but also expected.
"It's a bit concerning, but not at all different from what we've been forecasting and talking about," Kelso said. "As the weather gets colder as we get into the fall, as schools are open and other things are opening up a bit more, we do expect to see more cases."
Since March, when the state first reported cases of COVID-19 having been found in Vermont, more than 1,900 people have tested positive for the novel coronavirus causing the disease in the Green Mountain State.
Fifty-eight have died in Vermont due to complications of COVID-19.
Public health officials are asking that Vermonters "remain vigilant" and continue with habits – like mask wearing and avoiding crowds – that help mitigate COVID-19's spread.
5. Though the number of reported cases appears to be growing, public health officials said Vermonters could safely manage Halloween celebrations this year.
According to Kelso, Vermonters "can still celebrate Halloween safely."
The state's epidemiologist said there were ways circulating online, like premade grab bags and candy slides, that could allow Vermont's children to still safely Trick-or-Treat this year.
She advised families avoid busy streets where crowds of children might be Trick-or-Treating and encouraged families to find ways to incorporate facemasks into their children's costumes.
"We all need to find ways to balance the seriousness of the pandemic with fun," Kelso said, "and if Halloween is your kind of fun, you can find safe ways to celebrate."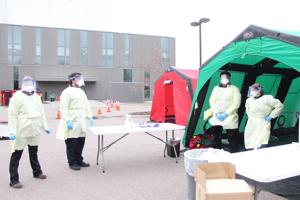 Colchester Sun