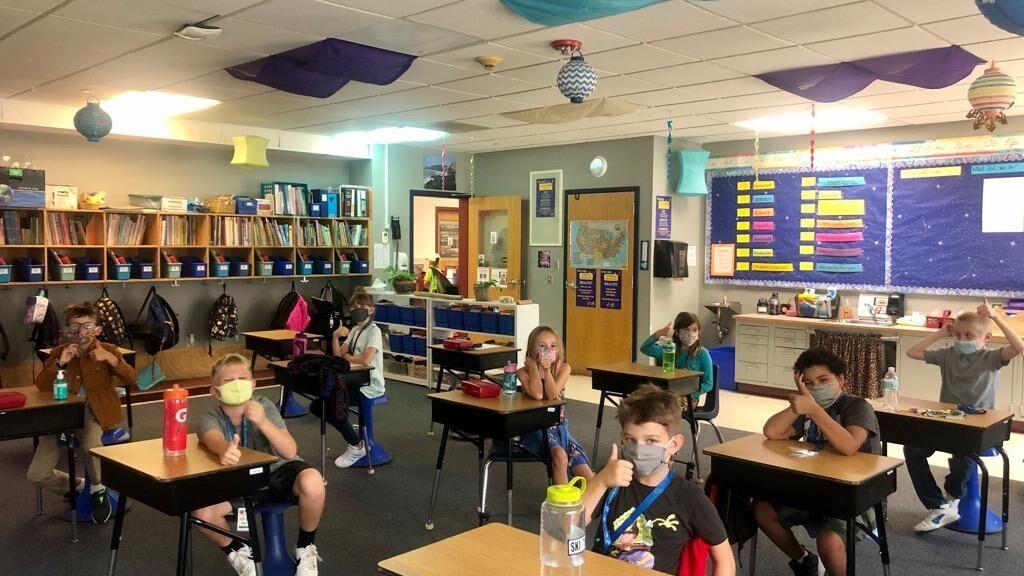 It certainly wasn't business as usual last week when students throughout the Colchester School District (CSD) returned to academic instruction, either remotely or through the hybrid model of learning. Months of preparation by administrators, faculty and staff were finally put to the test.
CSD Superintendent Amy Minor asked each principal from the district to report how the first week went at the Sept. 15 Board of Education meeting. She asked that they share a few things that are going well and they're proud of and something they know they need to adjust in the near future.
Here's what they had to say.
Heather Baron: Colchester High School
Things that are going well
Arrival and screenings in the morning and during the day
"We were really, really pleasantly surprised that all of the work that we put into that system and organizing it has really paid off. It was pretty smooth sailing in terms of that. It's not perfect, but it's a pretty well-oiled machine at this point."
Outdoor classrooms

Weekly learning plans and teachers' abilities to deliver "pretty incredible" instruction in the current model
Something to tweak and improve upon
Calibration of expectations of students; reminding them to physically distance, such as not crowding around a doorway like they're used to
"Coming back is not exactly the same, so we're building a culture around health and safety."
---
Michele Cote: Colchester Middle School
Things that are going well
"I think we were surprised, amazed, and maybe a little shocked that arrival went as smoothly as it did, and has been going, and continues to go. I think we actually have students in classes and ready for TA at 7:30 every single morning, and we never pulled that off prior to COVID schooling."
Internal transitions between class times

New technology tools teachers are incorporating into the curriculum
Something to tweak and improve upon
Middle of the day for in-person instruction, which includes lunch, a team time, and an academic period
"We are working with our kitchen staff to figure out lunch and how we are getting that out to classrooms — and not trying to take away time from student learning. So we're continuing to work on a system to better make all of those pieces happen during that hour and a half."
---
Jordan Burke: Malletts Bay School
Things that are going well
Family nights which were Sept. 2 for third-grade parents and Sept. 3 for fourth- and fifth-grade parents

Using outdoor spaces for instruction, physical education, and music

First days of preschool
"Our first day of preschool was Thursday, Sept. 10, and a huge shout out to our preschool staff and all of the extra planning that's gone into bringing three- and four-year-olds back into the building."
The embedding of health and safety routines into the Positive Behavioral Interventions and Supports
Something to tweak and improve upon
"It's a huge adjustment for us to be dismissing students outside of the buildings. Typically, in the past, we've had families and parents come into the gym, and because we can't do that this year, we've just been working on how to do dismissal from the bus loop."
---
Carolyn Milliham: Porters Point School
Things that are going well
Arrival and health checks in the morning

Instruction and learning

Taking advantage of outdoor space

Positive school climate
"Teachers and parents are feeling really good about what it is that they're doing… Our school community, in terms of parents and community partners, have really been amazing. The level of compliance that we have with all of our health and safety procedures, both for students and for families, is really high, and I truly appreciate that. I think it's a community effort for us to all stay healthy and to do in-person learning for as long as we possibly can this year."
Something to tweak and improve upon
"We are still just working out the number system, making sure that cars are moving safely in our parking lot as we dismiss students."
---
Chris Antonicci: Union Memorial School
Things that are going well
Before-school conferences
Arrival process

Parents working on mask wearing with their children
"This was the thing that caused me the most anxiety this summer. They're generally pretty compliant and like to do what they're asked, but I had these nightmares of children crying in large groups because: the mask gets dirt, didn't fit, or wasn't cool. And kids have been fantastic wearing masks for long periods of time, and that's gone really well."
Dismissal, especially in light of parents who need to go to Malletts Bay School afterwards to pick up other children
Something to tweak and improve upon
How many classes can be facilitated outside
"We started with just two classrooms, plus [physical education]… [We want to] add another classroom or two. We wanted to see how the space was for that, so that's something that we're going to adjust going forward."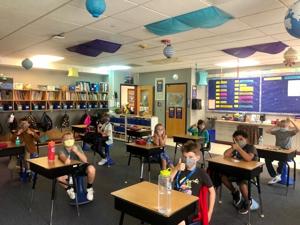 Colchester Sun