9:10 p.m. — Towns across the state are reporting results. Here are the races that have already been called.
PRESIDENT: Joseph R. Biden (D)
Former Vice President Joe Biden, the Democratic nominee, won Vermont's three electoral votes, according to the Associated Press.
REPRESENTATIVE TO CONGRESS: Peter Welch (D)
Democrat Peter Welch was reelected to represent Vermont in the U.S. House of Representatives. He has held the seat since 2006.
Welch was challenged by Republican Miriam Berry, from Essex Junction, who was running for elected office for the first time.
GOVERNOR: Phil Scott (R)
With 117 districts reporting, the Associated Press has called the race for governor. Republican Phil Scott has reportedly won reelection. This will be his third two-year term.
Scott was challenged by Lieutenant Governor David Zuckerman, a Progressive/Democrat.
7:05 p.m. Essex Junction — The doors to Essex High are locked. Kate Morrison, who's lived in Essex Junction since 2006, sits at a poll booth table next to her son, Chase, while poll workers start to clean up the gymnasium and call it a night.
Morrison will be the last voter to cast a ballot in the village, and one of the last voters to do so in the state, as she drops the cardstock into the counters with a smile. With two young children, and a job as a respiratory therapist, she wasn't able to get to the polls until the — literal — last minute.
"I wanted to make sure that my vote counted," said Morrison. "I've been holding on to [the ballot] since the day it came in September, and I'm excited to vote."
— Mike Nosek
6:15 p.m. — Good evening. Polls in Vermont close in less than an hour. The finish line is up ahead.
Almost all towns in Chittenden County count votes via tabulator, so we should have local results for you here, soon after 7 p.m.
Results for statewide races — like governor and lieutenant governor — might take a bit longer as some towns in Vermont count votes by hand.
While we wait, you might be interested in this data breakdown from 2016.
Essex
Colchester
Milton
—Bridget Higdon
5:50 p.m. Essex — The parking lot at Essex Middle School had quite a few cars in it when I stopped by after checking out the village's polling station, but the gymnasium didn't seem so busy as its setup — like that of the high school — allowed for a number of booths to be set up and able to quickly and easily move people through the process.
Presiding Officer John Sonnick said that there had been about 1,200 people who live in the Chittenden-8-1 and 8-3 districts come through the middle school by that point to vote.
"Which is amazing. It's a lot a lot of people," said Sonnick.
Sonnick noted that the day had been very "orderly" with getting people checked in and through the polls, noting a group of about 10 high school students who had offered their time to direct people through the gym and help with disinfecting the area.
Sonnick said the only issue the polling station faced throughout the day was needing to ask a few people who were wearing something political to remove the items. "Sometimes they do it happily sometimes they do it grudgingly."
— Mike Nosek
5:15 p.m. Essex Junction — A visit to Essex High School during rush hour, as many people started getting out of work, only saw a minor uptick of people heading into the polls compared to the rest of the day — except for, what poll officials say, was a busy morning.
With a plethora of voting booths in the school's gymnasium, and more room to wait if needed, no one needed to stand outside, and no voter was waiting in line too long before being able to mark their ballot.
Diane Clemens, the presiding officer of the village's polling station, said that the town had received and counted 10,000 ballots by Monday afternoon.
"Thank you, Essex," said Clemens. "You did what was requested; you used that absentee ballot."
Clemens said the only issue the polling station faced during the day was that it ran out of the "Affidavit of No Ballot Cast" since it had hoped people would have brought the ballots they were mailed. Poll workers made photocopies, however, and were able to keep things going.
When I checked out the tallies on the two ballot counters — one being solely for the village-specific ballot questions and the other for the general ballot — the numbers weren't too far off from one another. There had been about 4,500 village-specific ballots cast at that point compared to about 4,850 general ballots, both of those numbers including the early ballots that were submitted.
— Mike Nosek
1:15 p.m. West Milton — During my time at the Grande-Isle Chittenden poll, only one voter has come in to cast their vote.
There is no line and no wait, as opposed to the Chittenden 10 poll down the road, where voters are waiting five to ten minutes.
Election volunteers Amy Moreway and MaryLou Lombard, who are seated at the check-in desk in the Bombardier Park fieldhouse, said this is normal, considering West Milton's small population.
Loretta Devino, who is also working the poll, has worked for the town for nearly 50 years.
"We have great volunteers in Milton," she said. "They do such a good job I think."
In this district's House race, Democrat Mitzi Johnson, the Speaker of the House, is facing challenges from Democrat Andy Julow, Republican Michael Morgan and fellow incumbent Republican Leland Morgan. Two of the four candidates will win seats.
—Bridget Higdon
12:45 p.m. Milton — Even though the line to vote at Milton's Municipal Office in Chittenden 10 is stretching down the sidewalk during the lunch hour, it is still shorter than it was early this morning.
"This is the third time I'm trying today," one Milton voter said, who was waiting outside with his young daughter. "The line was all the way back there earlier and I didn't want to wait in the cold with her."
Selectwoman Brenda Steady is standing guard at the door, allowing four people into the lobby at a time to vote.
Town Clerk Sheryl Prince stopped to tell me her day is going well, before she hurried off to check in with volunteers who will be taking on the afternoon shift.
—Bridget Higdon
11:30 a.m. — As of yesterday, Nov. 2, over 255,000 Vermonters had already cast their vote by mail, according to the Vermont Secretary of State's Elections Division.
That number generously surpasses the 2016 general election total of 91,000 for early and mail-in ballots.
—Bridget Higdon
How many people voted by mail in your town? View the interactive map below.
This map was developed by students at the University of Vermont who are part of the Community News Service, a student-powered partnership with community newspapers.
8:45 a.m. Colchester — It's a cold and snowy morning at the Colchester polls, but that isn't deterring residents from voting.
As soon as the doors of Colchester High School opened, Colchester residents steadily began streaming in, Ruth Blauwiekel, a justice of the peace, said.
Candidates Sarita Austin, Seth Chase, Curt Taylor, Pat Brennan and Jon Lynch are currently outside the building, holding campaign signs and trying to stay warm.
Blauwiekel is greeting voters in the hallway as they enter, and poll workers Maryfran Holly and Rick Jean are helping voters figure out which district they are in, 9-1 or 9-2.
—Bridget Higdon
7 a.m. — Good morning. Thanks for starting your day here with us.
Polling places are now open in Chittenden County. If you are voting in-person, be sure to read about the candidates and check out our FAQs about voting in-person. Don't forget to bring a mask.
Keep checking this blog for updates, photos, results and more. It's going to be a long day — but our team slept well and we've got full mugs of coffee, so we're ready to guide you through.
—Bridget Higdon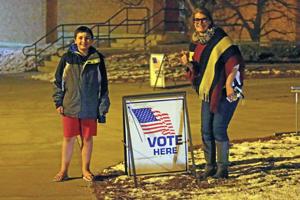 Colchester Sun