MONTPELIER – As forecasts paint a picture of state revenues looking better than expected during COVID-19, state economists are warning the coming years will still see deep financial shortfalls for state coffers.
As of a recent update from Jeff Carr, a state economist for the Agency of Administration, and Tom Kavet, a state economist for Vermont's legislature, Vermont was still expected to see a deficit of more than $274 million as it plans for the 2021 fiscal year.
Marring the state's economic recovery was the amount of uncertainty that came with it, according to Carr and Kavet, as both deadlock on federal stimulus and the course of the ongoing COVID-19 pandemic obscure possible paths for recovery.
"We're in an unusual situation," Carr said during a Wednesday meeting of the Vermont Emergency Board. "Right now, we have an economy being driven largely by non-economic events."
With the first cases of COVID-19 having been found in Vermont in March, the state, under Gov. Phil Scott, began rolling out public health mandates intended to control the disease's spread through Vermont, culminating in the eventual shutdown of most businesses in Vermont.
At the time, financial reports for the state were dismal – by the end of April, the state legislature's Joint Fiscal Office forecast a $430 million shortfall between Vermont's general fund, its transportation fund and its education fund.
Unemployment numbers in the state likewise swelled as more and more Vermonters were left out of work due to businesses being shuttered in compliance with the state's public health orders and regulations temporarily expanded access to benefits in response to the pandemic.
Those numbers grew the state's unemployment rate to a late April peak of more than 76,000, according to a report filed by Carr for the Agency of Administration, with most of the damage felt in Vermont's leisure and hospitality sector – its restaurants, hotels and entertainment businesses.
As of early August, roughly 36,000 in Vermont remained on unemployment, while nearly 1,000 Vermonters filed an initial claim with the state's labor department, according to Carr's report.
The impact was significant enough to handily dwarf the 2008 Great Recession and earn comparisons from Carr and Kavet to the Great Depression.
"We're in a situation where we've simultaneously had the most significant and most accelerated downturn in our economic history," Carr said. "Even in the Great Depression, that transpired over a year rather than months."
As the state gradually reopened, revenue forecasts began improving, with the $430 million hole between the state's three budgets shrinking to its current $274 million deficit.
Those deficits subsequently shrink to $158 million and $58 million by the 2022 and 2023 fiscal years, respectively, according to Carr's report for the Agency of Administration.
According to Carr and Kavet, both the state's economy and the national economy's recovery likely hinges on both the country's progress on controlling COVID-19's continued spread through the country, as well as federal stimulus states will likely need to weather the pandemic's economic fallout.
Their current forecasts currently predict another federal stimulus with funds directly allocated to states, a policy goal currently subject to gridlocked debate in the U.S. Congress.
"That's a really important component of the economy," Kavet said. "If state or local governments are forced to either raise taxes or cut local spending, there will be significant economic impacts that we have not accounted for in this forecast."
The immediacy of that relief was also stressed by the two economists during their conversation with the state's emergency board, a political body formed with the chairs of Vermont's four legislative appropriation committees and helmed by Scott.
"The timing is very important," Kavet said. "The longer you go without assistance, you know, states have to budget the impacts."
"The longer we go without getting this addressed," Carr added, "the greater the chance that we'll have more permanent, structural damage in the economy as well."
Whether that federal relief would come soon was still an open question, though, as politics in Washington, D.C., have led to stimulus talks breaking down between a House of Representatives-approved proposal from May and a significantly thinner Republican-backed Senate proposal.
When asked by legislators about what Scott was hearing in regular conversations with the National Governors' Association, Scott said support for some kind of federal stimulus or greater flexibility for what's already been awarded was largely bipartisan.
"We're all on board and everyone's telling us this isn't too much of an ask, and then it doesn't get done," Scott said. "I'm sure something will happen. I daresay it's going to happen more toward the November election, unfortunately."
There was some lighter news for the Vermont Emergency Board on Wednesday, however, as the state's delayed tax revenues from last year appeared brighter than what state officials had initially expected.
According to Adam Greshin, Vermont's finance commissioner, the state had seen more than $180 million in additional tax revenue upon July's deadline for filing tax returns, a higher number than projected for the state even before the pandemic ground the economy to a halt.
Those funds were more than enough to pay down the $51 million hole in the 2020 fiscal year's budget, according to Greshin, and would help ease the harder budgeting decisions lawmakers would have to make as they craft Vermont's upcoming state budgets.
"The end of it is, we start fiscal year 2021, as we're developing this budget, with more of a wind at our back than a wind in our face," Greshin said, "which will help us quite substantially when we develop a budget that we'll present to you folks in less than a week."
The news was well received by the state's emergency board members.
"At least we're coming back in August in a more positive spirit than we might've thought otherwise even a couple months ago," Sen. Jane Kitchel, a Democratic senator from Caledonia County who chairs the senate's appropriations committee, said.
"As I reflect, I think about what could've been were it not for the pandemic," Scott said.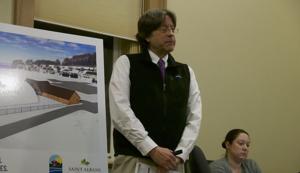 Colchester Sun