ST. ALBANS — Gubernatorial candidate David Zuckerman, a Democrat, laid out his vision for Vermont's future in an interview with the Sun on Friday.
The conversation began with COVID-19. Vermont has been far more successful in keeping the virus causing COVID-19 under control than other states.
"The people of Vermont have reacted extremely well," said Zuckerman, the state's current lieutenant governor.
The state has done well partly because it's spread out, but "we also did well because we look out for each other," he said.
While he generally gave his opponent, incumbent Republican Phil Scott, credit for his handling of the pandemic, Zuckerman did criticize Scott for not shifting resources to handle the influx of unemployment requests sooner and said he would have imposed a statewide mask mandate earlier. The delay placed small business owners in the uncomfortable position of choosing between customers who refused to wear a mask and the well-being of employees, Zuckerman said.
Now the state is facing the challenge of what will happen when federal dollars run out at the end of the year.
Currently, there is a ban on evictions in place, but what happens when it eventually ends, Zuckerman asked. There are other challenges as well, such as an increase in applications for heating assistance.
"I'm hopeful we'll have a new president and Democratic-controlled Congress," said Zuckerman, leadership inclined to provide more assistance to the states. However, he added, the state can't simply hope for assistance from the federal government.
Asked about the concern expressed by advocates that many will become homeless when federal assistance ends on Dec. 31, Zuckerman said the state may need to use rainy day funds to keep people housed.
Keeping people housed reduces expenses in other areas, he pointed out, such as health care. "We need to be thinking more proactively about how to address these problems at their core," Zuckerman said. "An ounce of prevention is worth a pound of cure."
Affordable housing has been an ongoing challenge in Vermont. Zuckerman noted the way the state was able to use funds from a capital bond to leverage private investment into affordable housing, a plan proposed by Scott.
Zuckerman would like to do the same with funds from wealthy Vermonters. For the duration of the Trump tax cuts, he would like to tax those who received the greatest benefit from those cuts and use the funds to make investments in economic and community development, including affordable housing.
If the state was able to put $20 million into affordable housing and leverage another $20 million to $40 million in private investment, and do that for two to four years, then it could begin to address the affordable housing crisis, he said.
That investment would also create jobs and help rebuild the state's town and village centers, Zuckerman said.
The conversation about Vermont being a costly place to live tends to focus on taxes, but taxes aren't the primary costs Vermonters face, according to Zuckerman. "We all pay more for housing. We all pay more for insurance," he said. But costs in Vermont are not that far off costs in other northern New England states and communities. The difference, Zuckerman said, is that wages in Vermont are 18 percent lower than those other states.
The state can close that gap by finding ways to lower costs or by increasing wages, he pointed out. "We're not going to close it just by saying words."
Health care is one place where Zuckerman believes it may be possible to bring down costs. There are employers, he said, who provide primary care with no co-pays to their employees. This has resulted in people getting regular check-ups and seeking medical care sooner when they're sick. The end result is that those employers have been able to reduce their health insurance premiums.
Zuckerman wants to pursue universal primary care as a way to begin reducing health care costs in the state.
Because Vermont lacks paid family and medical leave, many Vermonters who are ordered to quarantine cannot simply take paid time off from their jobs. In order to be paid, they have to leave their jobs so they can receive unemployment benefits.
If paid family and medical leave had been available that might have reduced the number of Vermonters needing to collect unemployment, Zuckerman pointed out.
"Half of all Vermonters live paycheck to paycheck," he said. Not working "puts real economic stress on those families."
Roughly $4 billion in federal assistance came into Vermont earlier this year, either directly to the state or in the form of federal programs such as the Paycheck Protection Program or the temporary boost to unemployment benefits. "That meant people had money to pay their bills," Zuckerman said.
The state should now be focused on jumpstarting the economy, and how to get the most from any additional federal funds that do come to the state, in his view.
"We should look to see how we can jumpstart certain aspects of the economy," Zuckerman said, with an eye towards investments that will pay future dividends, such as broadband and lowering Vermont's greenhouse gas emissions.
"These investments are going to build the infrastructure for the economy for the next 20 years," he said.
For several campaign cycles, broadband has been a top issue. Asked what makes this time different, Zuckerman pointed to the successful communications union district in ECFiber. "Now we have the framework," he said.
The state, in his view, should bond for funds to invest in broadband and use the money to leverage federal funds.
"There's not enough money to do it in one year, but if we don't start putting money into building out broadband, we're never going to build out broadband," Zuckerman said.
Broadband access will not only benefit current Vermonters, but will help attract people to the state who want to work remotely, he said.
Zuckerman is also proposing to invest in child care by taxing employers ten cents per hour per employee. He would use the resulting $30 million to $40 million to bolster access to child care with increased subsidies for families. With more funds available to pay for child care, more facilities will open in response, he said.
The employers would benefit from having a more stable workforce because more parents, especially women, would be able to enter the workforce.
An organic vegetable farmer himself, Zuckerman said Vermont has to "think outside the box" when it comes to dairy. "We are still dependent on milk more than any other commodity," he said.
The state should be looking for ways to differentiate Vermont milk from other milk in the large markets to the state's south, aiming for something that would cost more than other conventional milk, but less than organic. He would support market research into why people might be willing to pay for milk with an eye toward developing a brand.
Processing and storage remains an issue for non-dairy growers, Zuckerman said. He would invest in aggregated storage facilities, which would enable farmers to expand their production without having to worry about also expanding storage.
The Education Fund is facing a shortage, primarily because sales tax revenues are down. At the same time, schools are facing increased expenses for the supplies needed to respond to the pandemic.
Zuckerman said Vermonters can't afford to cover that gap with a large property tax increase. He would use reserves to cover the gap and then rebuild the reserves over five to ten years, preferably five, spreading out the costs.
Given the opportunity to make a final pitch to voters, Zuckerman said Vermonters have a choice between two smart, capable people with "steady hands."
The question voters should consider is "how do we build our economy out of this recession," Zuckerman said. "I've got the ideas, the creativity."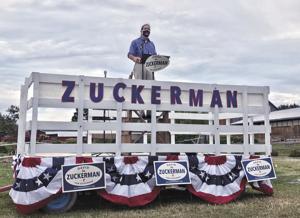 Colchester Sun