MONTPELIER – An update from the Scott administration Friday saw Vermont's governor detail a $133 million COVID-19 relief proposal intended to bolster a state economy wrestling with the effects of an ongoing pandemic.
The proposal, which would earmark $133 million in federal funds allocated by the CARES Act, would come as businesses still struggle with the impacts of COVID-19 and public health orders intended to manage the disease's spread.
State officials also provided updates on COVID-19's spread through the U.S. and New England, where cases appear to be continuing to stabilize somewhat following a summertime surge linked largely to states lifting pandemic-related restrictions on business too soon.
The state's human services secretary also offered details on the state's reopening plans for long-term care facilities for the elderly.
[embedded content]
Here's what officials had to say during Friday's address.
1. Gov. Phil Scott and his administration are pushing for a $133 million relief package intended to bolster an economy still struggling with the impacts of COVID-19.
Vermont's commerce secretary Lindsay Kurrle detailed a plan Friday that would commit federal funds allocated to Vermont to expanding existing grant programs and supporting, in particular, the state's beleaguered lodging and food industries.
Roughly $50 million would be specifically targeted at restaurants and lodging sites impacted by some of the strictest public health measures enacted during the pandemic, where business owners have respectively reported an 87 percent and 97 percent loss in profit since the pandemic's start, Kurrle said.
Meanwhile, $23 million would be used to build onto existing grant programs previously authorized by the legislature. The Scott administration is also hoping to expand eligibility to these programs, including lowering a barrier currently limiting access to only businesses that can show a 50 percent loss in profits.
"We were able to expand the program without making changes to legislation, but we heard from businesses, legislators and community organizations that there remain unintentional gaps and some businesses have not been able to access the financial supports they need," Kurrle said.
The administration is also proposing to use $50 million to send $150 checks to every Vermont household that can be used to purchase Vermont-made goods in local businesses with the hopes the program could spur more local economic activity.
Finally, $10 million would be directed at economic development and tourism marketing campaign intended to draw visitors from "safe regions" during the fall foliage season and encourage visitors to consider settling down in Vermont more permanently.
Funding for the proposal would come exclusively through Vermont's share of the $2.2 trillion CARES Act, which sunsets at the end of the year.
Scott, speaking Friday, said he understood the state legislature's hesitance to use the remainder of Vermont's CARES Act allocation, but stressed businesses had an immediate need for support.
"The reality is we don't have the luxury to wait until there's a vaccine, because employers are deciding right now about whether to stay open or shutter their doors for good," Scott said. "As a result, it's also left employees wondering what they're going to do."
I've proposed a $133M package using funds from the CARES Act, which includes critical jobs-saving grants for VT employers, as well as sending $150 to every Vermonter as part of a buy local campaign to spur economic activity that supports local businesses.https://t.co/7jPL6cmK9C pic.twitter.com/uiz8pouD3c

— Governor Phil Scott (@GovPhilScott) August 21, 2020
2. Vermont continues to see little spread of the virus even as college students return to the Green Mountain State.
A report from Vermont's financial regulation commissioner Michael Pieciak continued to show only a limited number of cases of COVID-19 in Vermont even as testing at Vermont's universities finds cases among incoming college students.
Sixty-one people had tested positive for COVID-19 in the state this past week, a noticeable spike compared to the 39 cases the state reported the week prior.
Pieciak, whose department has managed state modeling for COVID-19 since the pandemic's beginning, attributed the higher number of cases to returning college students and a significant increase in the amount of testing that accompanied colleges' reopening plans.
Despite the higher number of cases recorded overall, Vermont's financial regulation commissioner said that Vermont continues to see the lowest number of cases per capita in the U.S. and continues to have a low rate of positive tests among all tests for COVID-19 taken in the state.
"Even though these numbers are up, our numbers are quite strong compared nationally and we see quite a bit of testing happening this week to help explain that increase," Pieciak said.
According to Vermont's health commissioner Dr. Mark Levine, approximately 12 returning college students have tested positive for COVID-19, but, he added, there was "no ongoing transmission on any campus at this time."
Overall, according to the financial regulation commissioner, Vermont continued to meet its so-called "guardrails" for judging its success at managing COVID-19's spread.
3. According to financial regulation commissioner Michael Pieciak, cases in New England and in the U.S. more generally appear to be leveling off following this past summer's surge.
An updated state travel map showed another 700,000 residents from counties around the Northeastern U.S. would be able to travel to Vermont without triggering travel restrictions that require incoming travelers to self-quarantine for 14 days upon arrival.
That update, according to Pieciak, was emblematic of a wider trend of COVID-19's summer surge largely leveling off through much of the U.S. and even declining in the country's embattled southern states.
"There is some good news on the national front," Pieciak said. "Cases do continue to slope down from their peak about four or five weeks ago."
Within the Northeastern U.S. in particular, the number of new cases reported this past week fell by 10 percent compared to the week prior, falling to a level of new cases that hadn't been reported since early July, according to Pieciak.
Within New England, cases appeared to be declining in Massachusetts, while the coastal states of Connecticut and Rhode Island continued to see a steady spread of the disease, Pieciak said.
4. Vermont's human services secretary Mike Smith spoke about reopening plans regarding long-term care facilities in Vermont, where limited visitations have been allowed since June.
According to Vermont's human services secretary Mike Smith, Vermont's long-term care facilities have had guidance in place since early summer governing when those facilities could welcome visitors.
The guidance, divided into several phases, is based on the amount of cases of COVID-19 reported within a long-term care facility and on the spread of COVID-19 within the outside community. As community outbreaks subside and weeks pass without cases in a facility, that facility can allow for more visitation.
"We're being vigilant and careful as we ease these restrictions," Smith said.
According to Smith, facility-wide testing in the state's long-term care facilities had identified two cases of COVID-19 in residential care facilities this week: one in Middlebury and another in Shelburne.
Since COVID-19 was first found in Vermont in March, more than half of the 58 deaths attributed to COVID-19 in Vermont have been attributed to early outbreaks of the disease in two Burlington nursing homes.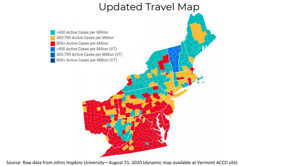 Colchester Sun