MALLETTS BAY — Corporal Stephen Gutierrez loves his job.
"You can't see it, but I'm smiling under this mask," he said.
This summer is Gutierrez's first as harbormaster of the Colchester Police Department's marine unit, a unique position he holds when Lake Champlain is busiest, from about Memorial Day to Labor Day.
Chief Douglas Allen said CPD created its marine unit about 30 years ago. Gutierrez is the third harbormaster in the unit's history.
The town of Colchester has the most shoreline of any town in Vermont, Allen said, making a marine unit necessary for responding to boaters and lake users in the inner and outer Malletts Bays, as well as on the Winooski and Lamoille rivers.
Growing up in western New York, Gutierrez remembers enjoying the time he spent on his father's boat. When Sergeant Michael Akerlind began transitioning out of his role as harbormaster last summer in order to become a sergeant, Gutierrez, who's been with CPD since 2006, jumped at the opportunity to try something new.
"I thought it might take only a few weeks to train for the position, but I ended up spending the whole summer out on the lake with Mike [Akerlind]," he said.
Gutierrez completed his training last September after passing a rigorous swim test. He now patrols the lake in one of CPD's two boats 10 a.m. to 8 p.m. Friday through Monday, when the lake sees the most action. He's one of three marine-trained CPD officers who is on call at all other times of the week.
Due to COVID-19 and recommendations that Vermonters stay close to home this summer, Gutierrez said the department has dealt with more first-time boaters than usual.
"I think a lot of people who had money saved up for a summer vacation decided to stay close to home and buy a boat instead," he said.
Many of his calls for service this year are from boat operators who have run out of gas, are lost or who have grounded their boat — gotten it stuck in shallow water.
Lake Champlain's water level has been lower than usual for this time of year, surprising many first-time boat users. The water level in July was the level it usually is in September, Gutierrez said.
Gutierrez has also made arrests for boating under the influence of alcohol and is trained to identify operators who are worn down or tired from too much sun exposure.
One of Gutierrez's favorite parts of the job are the safety inspections he conducts while patrolling. This summer alone, he's done more than 100.
"Inspections allow me to interact with the community in a positive way," he said. "People almost always learn something new and are grateful that I stopped by."
Inspections can be conducted without cause and are often used by Gutierrez not to reprimand or to hand out tickets, but to educate boat operators and passengers about proper safety measures.
He often hands out pamphlets that explain what safety features boats must have, including how many life vests and floatation devices are needed.
Beyond conducting inspections, Gutierrez is also prepared to respond to emergency situations. During training last summer, he and Akerlind used the boat to attend to a call from hikers who were lost in Niquette Bay State Park. It was faster to get to them by water than by land, Gutierrez said.
CPD's marine unit has responded to calls on the Colchester Causeway and has even ferried injured cyclists via water to medical care.
"We can be on the water in minutes in an emergency," Allen said.
Unlike the Coast Guard which might have six people on a patrol boat at a time, during his 10-hour shifts, Gutierrez is the lone operator of the Colchester boat.
"All of the equipment on here has been designed to be operated by just one person," he said, including the pump, a large hose and nozzle system which can be used to put out a fire or to drain a boat that is taking on water.
While Gutierrez's position is funded by the town, funding for the boat's equipment, which among other devices includes a radio, navigation screen, tow rope and thermal camera, comes from state grants.
"I am so well equipped out there," he said.
When the weather becomes cooler, Gutierrez will trade the water for the road and the helm for the driver's seat of his patrol car.
He'll miss the time he spends at the Champlain Marina, where the CPD boats are docked and where lots of people know his name.
"I'll help people back out of their slip and stop to hear about someone's latest adventure," he said. "I think people like being able to have positive interactions with their police officers, and I'm grateful to help provide that."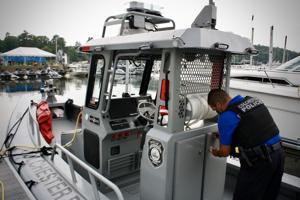 Colchester Sun