During the pandemic, many Colchester families are visiting the Colchester Community Food Shelf for the first time.
CCFS President Marcia Devino said the number of new visitors to the food shelf is up 81% so far from last year.
A volunteer-run food shelf that helps Colchester residents put food on the table, CCFS is currently a one-stop pick-up location for fresh produce, non-perishable items and dairy products.
"I think there were a lot of people who did okay when they were working, but they weren't far from the cliff," Devino said. "Now, not being able to go to work, they need help, so they come to us."
For the health and safety of its volunteers and clients, beginning April 1, the food shelf changed its opening days and hours. While previously it had been open for shorter hours three days a week, it is now open for longer hours, 12 p.m. to 6 p.m., only on Wednesdays.
CCFS served 469 Colchester residents, or 183 households, during the months of March and April, according to data from its website.
"I think people appreciate that we are making ourselves and items available to them," Devino said.
Colchester is not the only town in Chittenden County to see a recent increase in food shelf users. In recent months, visitors to Milton's Emergency Food Shelf doubled, Executive Director Vikki Patterson said.
"We empty out almost as quickly as the food comes in," she said.
At the start of the pandemic, food insecurity in Vermont increased by one-third, from 18.3% to 24.3% of the population, according to a study conducted by the University of Vermont.
The study, conducted in late March, also found 7% of food insecure families were currently utilizing food pantries and soup kitchens, while 20% said they were likely to start going to one in the future.
Devino thinks the higher volume of food shelf visitors could continue through the fall, though she said it might depend on whether the federal government renews its commitment to provide those on unemployment insurance benefits with additional assistance.
The Federal Pandemic Unemployment Compensation, which has provided $600 per week in additional federal assistance to those who who lost their jobs due to the pandemic, is scheduled to end July 25.
"I think it's going to depend on what happens in Washington," Devino said. "I don't think what you get if you are just on unemployment will be enough."
Not only has CCFS seen an increase in visitors, but in food and monetary donations as well.
During the first quarter of 2019, which spans January through March, CCFS received 6,000 pounds of food donations. During the same period this year, the shelf received 9,000 pounds of donations.
Devino attributed this increase in donations to more people becoming aware that members of their community might be having a hard time.
"People have been very generous, with food donations and with money," she said.
CCFS uses monetary donations to purchase perishable items like cheese, meats and breads from local supermarkets. Grant money given by the Vermont Foodbank is used to purchase CSAs, or once-a-week or biweekly boxes full of locally-grown, in-season fruits and vegetables.
"We have plenty of food," Devino said. "We've never had to shut our doors early because we've run out."
Before COVID-19, visitors to the food shelf could walk in and select their own items from the shelves. Now, volunteers shop for the clients and bring the bags out to their cars when they arrive.
Most of CCFS' volunteers are older, and therefore might be more vulnerable to COVID-19, Devino said. It is for this reason that volunteers work short, two-hour shifts in small teams of three.
"In my personal opinion, we're probably going to be doing curbside through the end of the year," she said. "We'll have to find a reasonable way so don't freeze to death."
Devino said the community's generous donations and volunteers' dedication has allowed CCFS to accommodate its recent uptick in visitors. If the pandemic worsens, and even more people begin visiting, she feels confident they would be able to handle it.
"We would be okay with a certain amount of increase," she said. "We just wouldn't want to get to the point where we only just have enough."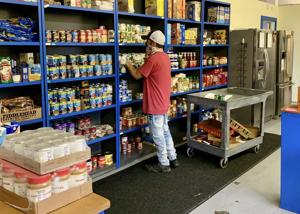 Colchester Sun