COLCHESTER — In an effort to utilize more alternatives to criminal justice, the Colchester Police Department has worked collaboratively with the Essex Community Justice Center since 2015.
Over the last five years, the partnership has remained steady, with a slight increase in referrals this year and a focus on keeping youth out of the criminal court system.
Chief Douglas Allen, as well as ECJC Director Jill Evans and Karen Dolan, Colchester restorative justice panel coordinator, provided an update on the partnership to the Colchester selectboard Sept. 22.
"We have always been strongly supportive of restorative justice concepts," Allen said. "As a department, our two goals are to decrease crime and to change behaviors, and this process helps us to do both."
What is restorative justice?
Instead of sending some minor crime offenders to court, CPD directly refers them to ECJC, where they participate in a restorative justice program that includes accepting responsibility and making amends to those harmed.
CPD might refer an individual to ECJC if they have committed retail or property theft, credit card fraud, or are a minor in possession of drugs or alcohol.
During these panels, which before COVID-19 were held in-person in either the Colchester Police Department Community Room or at the center itself in Essex, offenders talk with those they harmed and a set of community volunteers.
"In these sessions, offenders admit wrong-doing and accept fault," Evans said. "By sitting with the panel, they have the opportunity to see how far into the community their actions reverberate."
By the numbers
During Fiscal Year 20, the center has coordinated restorative justice panels for 53 Colchester offenders.
Most referrals in Colchester come from Corporal Mark Jacobs, the Colchester school district's school resource officer. This causes about 60% of total Colchester referrals to be youth, or individuals aged 18 and under, Evans said.
Most youth are referred by Jacobs to ECJC for under age pocession of alcohol or marijuana, or for disorderly conduct.
Evans said she thinks referring young people to ECJC instead of to court has lasting benefits.
"Restorative justice gives people a second chance in the community where they live," she said.
In FY20, 82% of CPD's referrals entered into the process and 93% of those successfully made amends and took responsibility.
Over 90% of referrals have consistently been successful for the least three fiscal years, according to data shared by ECJC.
In Fiscal Year 20, Colchester residents provided 102 hours of volunteer service to the center.
Last summer, the center was looking for Colchester residents to participate in the town's restorative panels.
According to ECJC's agreement with CPD, Community members are needed in panels and circles to provide support for those affected by the crime. They also are present to listen and provide a safe and equitable space.
Dolan said many Colchester residents have since stepped up to the plate to volunteer, and she is grateful.
ECJC serves Essex, Colchester, Milton, Jericho, Underhill, and Westford, but is located in Essex Junction. It has been funded since 2003 through an annual grant of $214,000 from the Vermont Department of Corrections.
The Colchester selectboard authorized the town to contribute $13,300 to the operation of ECJC in June 2019.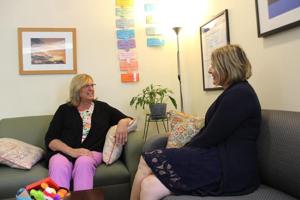 Colchester Sun