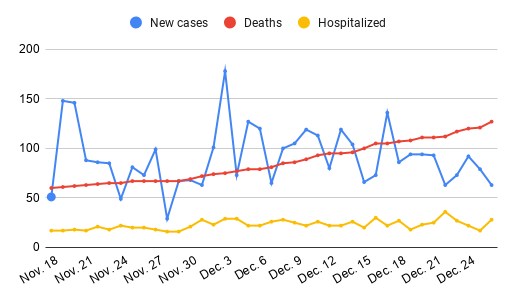 The Vermont Department of Health has announced new figures for how many people have tested positive for COVID-19 in each of its towns, data included adding the week of Dec. 16-23.
While four towns in Chittenden County had a reported-zero number of new cases during the week, Winooski had more than Burlington with 68 and 57, respectively, to see a large spike.
Additionally, the health department launched a new vaccine dashboard which will be updated weekly with how many Vermonters have received the COVID-19 vaccine, as well as a breakdown of how many have received it by county.
23: Number of new cases in Colchester between Dec. 16-23
270: Total cases for Colchester since March 5, 2020
226: Total new cases in Chittenden County between Dec. 16-23
11.7: Percentage of total cases in Chittenden County stemming from Colchester
T-3rd: Where Colchester sits on the list of most cases in Chittenden County (tied with Essex)
T-4th: Where Colchester sits on the list of most cases in Vermont (tied with Essex)
1: Number of new instances of a person being in a Colchester School District building while being infectious (through Dec. 22)
0/0: New/total such instances for Colchester High School
0/0: New/total such instances for Colchester Middle School
0/2: New/total such instances for Malletts Bay School
1/2: New/total such instances for Porters Point School
0/0: New/total such instances for Union Memorial School
15: New deaths in Vermont from Dec. 16-23
120: Total deaths for Vermont through Dec. 23
4,374: Number of people vaccinated in Vermont through Dec. 22
1,131: Number of people vaccinated in Chittenden County through Dec. 22