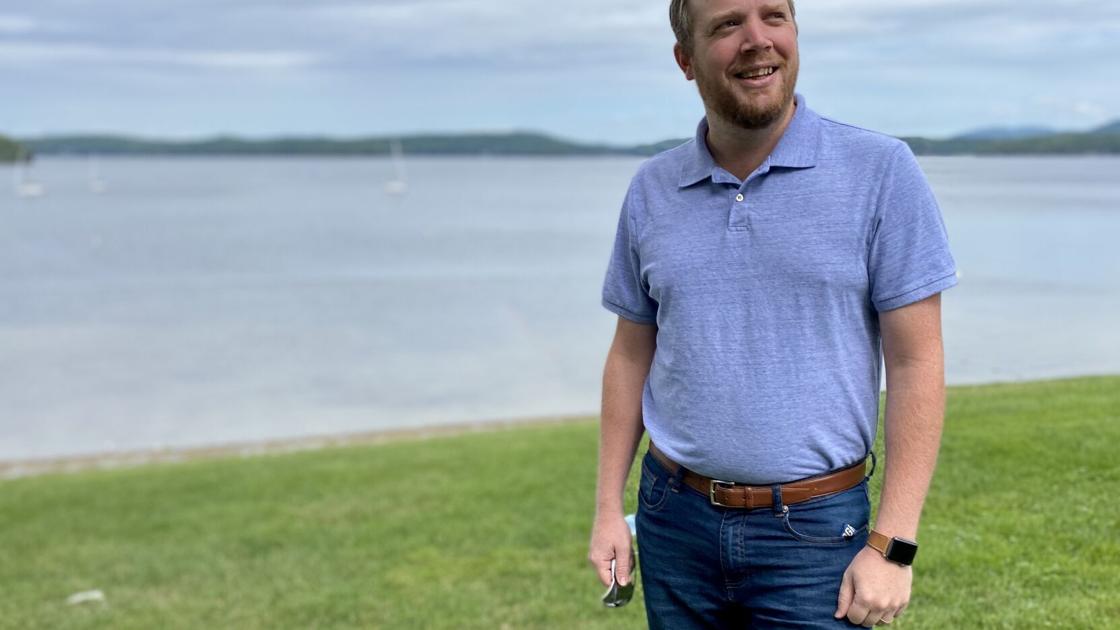 COLCHESTER — Sitting on a bench overlooking in Bayside Park, Jeff Bartley looked out at the lake. He was glad for a break from packing and for an opportunity to spend some time outside.
By the time of this article's publication, Bartley, former chair of the Colchester selectboard, will have already moved with his family to their new home in Fairfax. But at the time of his interview with the Sun, he was still very much present in Colchester, speaking in "we's" and "ours."
"If we start having issues with this—" Bartley said, gesturing out at Malletts Bay, "unfortunately it's Colchester that's going to suffer."
After serving more than seven years on the selectboard, Bartley stepped down last week in preparation for his move to Fairfax. While his tenure oversaw many changes and accomplishments, Bartley still wishes he could have left Colchester with a connected sewer system.
The Malletts Bay sewer project, which was shot down by voters in March 2019, was one part of a greater plan to combat degrading water quality through stormwater and wastewater improvements.
"We're not doing everything we can to protect this," Bartley said, seated on the bench in Bayside Park. "I still think the board needs to take a look at it."
Bartley said his father modeled for him how to be involved and engaged in town affairs. As a volunteer firefighter in Essex and later in Fairfax, his father was always busy serving the community.
"He always had something going on, and that's probably me too," Bartley said. "I'm not someone who can just stay home and play video games or watch TV. I've always got to be doing something."
Bartley has long been interested in politics, but for the most part had always worked behind the scenes as an operative, helping to get someone else elected to public office.
"But that gets boring after awhile because you're selling somebody else's ideas and you're not in a position to promote your own," he said.
After being recruited to work on Tom Mulcahy's campaign for selectboard in 2013, Bartley decided to run himself the following year. Their victories broke up what he called the "good ole boy network" on the board, and brought what he thought was fresh blood and a push for progress.
Bartley, who is also the sales and marketing director for the Champlain Valley Expo, was elected chairman of the board in May 2019 following the long tenure of Nadine Scibek. He worked with the board and other town officials on Colchester's major rebranding, the creation of a stormwater utility and the design of an upcoming community center.
"In seven short years, I am proud of the accomplishments this board has made as a team," Bartley said during his resignation announcement Aug. 4.
Bartley was on the board for the duration of the process to consolidate the town fire departments. If the strike down of the sewer was Bartley's greatest disappointment, the consolidation of the fire departments was his greatest challenge.
"The challenge is, and all municipal governments face this, is that change is difficult," he said.
During the period in which the departments were being consolidated, Bartley worked approximately 10 hours a week outside of regular board meetings and helped Town Manager Aaron Frank make sure the project remained on track despite the pandemic.
Mulcahy praised Bartley's commitment to learning, saying he was always doing the necessary research and reading. The board will look for those qualities in the person who will replace him, Mulcahy said.
"Another thing I will tell you about Jeffrey, is that as we came to know each other, we became good friends," Mulcahy said. "I think that's important."
While Bartley praised the longtime leadership of Scibek and Herb Downing, he was also happy during his time to see new faces appear in the seats beside him.
"It's really good to finally start seeing some turnover, because otherwise the meetings just become redundant," he said. "Now it has just such a jolt of energy."
Bartley trusts that energy to take on issues like the sewer, policing and affordable housing. The rising cost of buying a home in Chittenden County is the reason he, his wife Ashley and their son George moved to Fairfax.
"There's a very real affordability crisis," he said. "But Colchester has begun to do the work. Our property taxes are lower now than they were in 2013. Not many communities can say that, so it is on us to make sure we continue to find ways to be more efficient, to cut costs."
During his last meeting, Aug. 24, the remaining board members unanimously passed a resolution recognizing Bartley for his service. He was presented with a few gifts which garnered many laughs, including two bags of dry cement and a street sign bearing his last name.
Bartley will miss many things about Colchester, but he is looking forward to setting up his new garden and playing with his son in their new yard.
"There will be less trips to Rozzi's for sure," he said, laughing. "I'm definitely going to miss their wings."

Colchester Sun