The Scott administration defended plans to reopen Vermont's schools this fall during an update Friday, offering reports from medical experts asserting in-person learning could be safe.
While schools would resume, Gov. Phil Scott warned they would likely do so as a "hybrid model" incorporating both remote learning and class time, declaring in-person learning "valuable" while stressing "classrooms may not be full for the foreseeable future."
"We also need the flexibility to include in-person instruction, which is we know is valuable to our kids and something we couldn't offer in March, April and May when we began fighting this virus," Scott said.
"There's no substitute for the learning that takes place in our schools," he continued, "and our parents and especially our kids deserve the best education we can provide."
Nationally, conversation about reopening schools have become heated as officials weigh the educational and economic needs of having in-person learning against a surging rise in reported cases of COVID-19, an easily transmitted respiratory disease capable of causing life-threatening illness.
During Friday's press conference, Scott offered speaking time to Dr. William Raszka, a pediatric infectious disease specialist from the University of Vermont, who argued recently in the peer reviewed journal Pediatrics that children rarely spread COVID-19 between one another and to adults.
Raszka, on Friday, pointed toward a series of studies done overseas suggesting transmission of COVID-19 between children and from children to adults was rare, concluding that current evidence pointed toward a safe reopening of schools being possible and even recommended.
According to Raszka, in places where COVID-19's spread appeared under control and mitigation steps – like social distancing practices and policies encouraging students to wear face masks – were taken within schools, infection appeared slim.
"The data all supports reopening schools with appropriate mitigation strategies," Raszka said, later adding, "Schools may be different next year and will be different, but we believe that with appropriate policies in place, a rich and robust environment for education and a safe one as well."
Vermont's state epidemiologist Dr. Patsy Kelso said the experience of reopened child care centers in Vermont likewise lent credence to the idea that school openings in fall would be safe.
"We have in fact had a lot experience over the last several months with child care settings being open," Kelso said during Friday's conference, "and we strongly feel at the health department that the data currently supports reopening the school."
Kelso also pointed toward the fact that, even with increased testing availability since the pandemic's beginnings in March, school age children ostensibly returning to school this fall accounted for only a tenth of confirmed COVID-19 cases within Vermont.
"They are a minority of the cases that we are seeing in Vermont, despite the fact that we have broad testing available," Kelso said.
The Agency of Education released its guidance for reopening schools last month, calling for everything from relatively strict social distancing measures and recommended face mask use to planning for the possible resumption of remote learning if needed.
During his address Friday, Scott stressed that he believed schools needed to return to in-person learning for both academic and social reasons as well as the uneven impact remote learning could have on some students, a sentiment administration officials said health experts involved in state planning shared.
"Kids need the structure and the relationships with their peers, their teachers and with other adults, for their academic, social and emotional development," Scott told reporters Friday.
"We know a fully remote format creates gaps that kids can fall through," he added, "and, unfortunately, this has a greater impact on some students than others."
Scott's opinion is one shared by professional medical groups like the American Academy of Pediatrics, which issued public health guidance last month alongside its explicit endorsement of a return to in-person learning.
Conversations around school openings come amid a backdrop of surging numbers of COVID-19 cases around the country, however. On Thursday, a record 77,000 cases of COVID-19 had been reported across the U.S., the most reported in a single day since the pandemic began.
Those nationwide trends made their way into the Scott administration's conference Friday, spurring comments from the governor that equated the national surge in cases to a "forest fire."
"While our trends still look really good here in Vermont, we're seeing a forest fire take hold across the south and west, and I'm worried it will backtrack to the northeast and eventually affect us in Vermont," Scott said. "I want to reassure you, we're watching and we're contemplating steps we may need to establish a line of defense if that proves to be the case."
Already more counties have seen their respective infection rates – the ratio of positive cases of COVID-19 per a county's population – roll past Vermont's threshold for entering the state without triggering a requisite 14-day quarantine or seven-day quarantine pending a negative COVID-19 test.
According to Vermont's financial regulations commissioner Michael Pieciak, whose department has managed Vermont's modeling for COVID-19's spread in and around the Green Mountain State, the number of people who could now travel to Vermont without quarantining had fallen to only 6.9 million.
At their height, Vermont's COVID-19-related travel restrictions would have allowed as many as 19 million people into Vermont from northeastern counties in states as far away as Ohio without triggering a quarantine.
Many of those counties appeared to now be seeing their caseloads of COVID-19 grow amid the national surge in confirmed cases of COVID-19, according to modeling from Vermont's Dept. of Financial Regulation.
Pieciak stressed during his presentation Friday, however, that COVID-19's spread in Vermont appeared to remain slow despite national trends, with fewer than 1 percent of all tests conducted in the state showing positive results for COVID-19 and with the disease's growth rate remaining low.
"This is simply a backdrop to what others are experiencing," Pieciak said. "In Vermont, our trends continue to hold steady according to our four restart metrics."
An outbreak of COVID-19 in Vermont's south near Manchester and nearby Londonderry also appeared under control and may have been overstated due to less accurate testing, according to state officials.
Officials had previously reported 59 people having tested positive at the Manchester Medical Center through the use of antigen tests, a new test for COVID-19 capable of producing more immediate results than the polymerase chain reaction – or PCR – tests used by Vermont's health department.
Vermont's health commissioner, Dr. Mark Levine, said antigen tests were more likely to produce "false negative" results and reported that subsequent PCR testing on 15 of those who had previously tested positive in Manchester had revealed only two confirmed cases of COVID-19.
Wider testing in the Manchester and Londonderry communities affected by what some had considered an outbreak of COVID-19 found no additional cases after 405 tests were conducted, Levine said Friday, adding there wasn't enough evidence for declaring the cases in Manchester an "outbreak."
"This is a good indication that these cases are not spreading within the community," Levine said. "We know of two positive cases – only two – though there may be more."
The state's health department was attempting to follow-up with the 59 people tested with antigen testing for more accurate PCR testing, Levine said, and, of those, the health department had managed to contact all but 11.
As of Friday afternoon, 1,334 people had tested positive for COVID-19 in Vermont since the pandemic's start in March. Fifty-six have reportedly died to complications of the disease, according to the Vermont health department.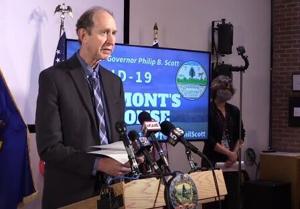 Colchester Sun