WATERBURY – Test results show 147 Vermont inmates have tested positive for COVID-19 at the Tallahatchie County Correctional Facility (TCCF) in Tutwiler, Miss., the Dept. of Corrections (DOC) announced on Wednesday.
In addition, two inmates in Vermont tested positive for coronavirus. Both were new admissions and were in quarantine.
DOC ordered testing of all inmates held at TCCF last Thursday. As of press time, 62 inmates have tested negative, eight have refused, and two tests are still pending.
Testing was ordered after six inmates returning from TCCF tested positive upon arrival at Marble Valley Regional Correctional Facility in Rutland last week. There are 219 Vermont inmates currently located at the Tallahatchie facility.
"In hindsight, we should have seen this coming," Gov. Phil Scott said when speaking of the outbreak on Tuesday.
TCCF is a private prison operated by CoreCivic, the second largest corrections company in the U.S.
"They had assured us they were taking care of things there," said Scott, adding, "but not to the Vermont standard."
CoreCivic was following Mississippi's testing guidelines which are to test only those with symptoms. In contrast, Vermont does facility-wide testing of all inmates and staff on a rotating basis. All new arrivals at Vermont prisons are placed in quarantine and tested for COVID-19 the day they arrive, a week later, and 12 days after arrival.
Secretary of Human Services Mike Smith said CoreCivic was slow to update its procedures as the pandemic spread in Mississippi.
DOC is now insisting that Vermont protocols be used at TCCF, including testing of all inmates on a rotating basis, isolating those who test positive and testing staff who work in the Vermont section. Medical care, sanitation and other elements of Vermont's approach to handling the pandemic in prisons are being instituted, Smith said.
"We have people on the phone every day with them," Smith said. "We may put boots on the ground there."
Those who tested negative this time around will be tested again in seven days and thirteen days, Smith said, as was done in Vermont when an outbreak occurred in the St. Albans facility.
The state is also looking to get the tests processed by labs with a faster response time. In Vermont, police officers were used to transport tests given to inmates to a lab in Boston for processing in order to speed the process when an outbreak occured.
DOC's main focus, Smith indicated, is on medical resources and care.
Asked if the outbreak meant it was time to consider building a new facility in Vermont, Smith noted the administration had previously proposed just that. "I think it's high time we start thinking about that so we don't rely on out of state facilities," he said."
Vermont's protocols for addressing the pandemic in prison facilities are "some of the best in the country," Smith said, adding that other countries have approached Vermont to ask about the state's approach.
Following those protocols, DOC completed mass testing of 370 inmates and 140 staff at Northern State Correctional Facility in Newport on Monday. One inmate tested positive. That inmate was a new arrival who was in medical quarantine. He is now in medical isolation. All staff tests are negative.
An inmate at Marble Valley Regional Correctional Facility also tested positive for COVID-19 this week. That inmate, too, was a new arrival in intake quarantine and now in medical isolation. Tracing of the inmate's contacts has been completed, DOC said in a written statement.
"Without a vaccine we're going to see ocassional outbreaks," said Smith. "The goal is to manage the impacts of the outbreaks when they occur. In Mississippi that didn't happen."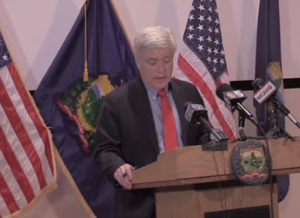 Colchester Sun